Wanda Nara It's news (almost) every day. the driver of master chef continue with his idea and return as a couple with Mauro Icardi, although at the same time it is shown on social networks unconcerned by the adventures of the footballer.
In recent days, an alleged new infidelity of Icardi began to circulate, who would have deceived the media with a young woman named Cande Lecce, who although the player denied it, she herself spread private chats.
Now a video of Icardi circulated at a party, and Wanda posted a message on Instagram that seemed directed at him: "Thank you for disappointing me, I didn't know how to stop seeing you with eyes of love."
Beyond that, the businesswoman continues with her life, as shown by her posts on Instagram. Of the micro bikini black, to the Bresh party. He confirmed a new separation, despite the fact that three weeks ago he uploaded a photo with Icardi and her children.
Icardi's supposed lover spoke
After this separation was confirmed, the person who spoke was Cande Lecce, Icardi's alleged lover.
"The first days were very difficult and today I received a call from a super strange number and that is the only thing I am going to say. They called me from abroad and I couldn't answer, I think it was Mauro Icardi or someone who was with him", Lecce began by saying in an interview with Juan Etchegoyen on Radio Miter's "Metro Live".
And he continued: "I think that at some point we are going to have a conversation, about the legal thing we will see where it has to be seen, but internally we will have to talk about what happened. The phone didn't have Turkish characteristics, but I'm sure he called me, because no one has my phone. I left everything there, I did not try to contact that number ", explained the promoter.
Regarding his reaction when he saw the call, he assured: "I was not afraid that he would call me, I already went through that, it was strange that they called me from abroad. I don't know if Wanda is behind that call, because I thought she wasn't aware of anything, and she suddenly throws the stone and hides her hand. Her attitudes do not go well with me, there are certain things that I do not agree with, if you have something specific, go for it, "Candela commented bluntly on Wanda's attitude.
"I think that what happened with me and Icardi, Wanda came in handy to separate, and I take care of what I say. It came in handy because of the situations she is experiencing, she needed a scandal like this to leave it to Mauro ", the young woman from Olavarría was honest about it.
And the note ended: "That was broken a long time ago, since before the summer, that's why I'm calm," Cande Lecce analyzed without hesitation about the relationship between Wanda Nara and Mauro Icardi, alluding to the fact that the conflicts between the two came from before of her affair with the soccer player.
Source: Ambito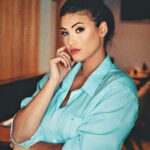 I am an author and journalist who has worked in the entertainment industry for over a decade. I currently work as a news editor at a major news website, and my focus is on covering the latest trends in entertainment. I also write occasional pieces for other outlets, and have authored two books about the entertainment industry.