Actually, Oliver Pocher should only cook pancakes for dessert. But more goes wrong than anyone could have guessed.
When he is greeted in the studio, Oliver Pocher is the only one who walks through the rows of spectators and then throws his gray jacket away. He doesn't need it for cooking, it could just get dirty. Oliver Pocher is supposed to deliver the dessert in this edition of "Grill den Henssler".
He announces that he has "come up with something nice". He has 26 minutes to do this. It should be Japanese pancake with strawberry sauce and rhubarb. The goal: it should taste better than the version made by professional chef Steffen Henssler. The jury around Jana Ina Zarrella, Reiner Calmund and Christian Rach should give him more points, preferably 30.
But the comedian fails. It looks as if Pocher has never stood at the stove before. He already fails to separate an egg. Hard to believe that he has already won twice against Steffen Henssler in previous participations in the show.
Oliver Pocher: In the cooking show, the comedian fails across the board

This time even Henssler himself has to help him: Pocher just doesn't know how to beat the egg whites with a whisk. "It must sound like that," cook coach Ali Güngörmüş calls out to him from his coaching chair. "From the wrist." Even Bruce Darnell rushes to help, although he's not allowed to, as presenter Laura Wontorra admonishes him.
The problem: Pocher dropped some egg yolk, so the egg white doesn't get stiff. You would think that as a father of five children, he has prepared pancakes for them for Sunday breakfast. But he also mocks simple terms, including cookbooks: A TL, a "Terra Liter?" Pocher asks. This time you don't quite believe him that he really doesn't know how a teaspoon is abbreviated.
"Ah, the pot is called, what do I do?" he then calls. Again and again he touches the pot, although the potholders are within reach. Pocher had weeks in advance to practice the dish at home. He doesn't seem to have done that much though.
"No one in this kitchen has ever had as much help as Oli Pocher," moderator Laura Wontorra states soberly after Pocher even forgot the ingredients such as flour and sugar and had to read the note. That's not allowed, so Pocher was caught cheating.
The pancakes also burn, chef coach Ali Güngörmüş advises: "You need a lot of powdered sugar to hide that." You eat with your eyes, as they always say. But at the comedian's court, it's more likely to starve.
Jury member Rainer Calmund is disgusted: "I've never eaten such bad rhubarb," he says. The conclusion: Oliver Pocher is not a chef. The comedian is clearly subject to Steffen Henssler in the jury rating.
Source: Stern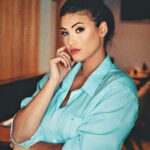 I am an author and journalist who has worked in the entertainment industry for over a decade. I currently work as a news editor at a major news website, and my focus is on covering the latest trends in entertainment. I also write occasional pieces for other outlets, and have authored two books about the entertainment industry.