The next tuesday september 5 is he International Cheese Pizza Daya gastronomic ephemeris Created to pay homage to this elaboration from Italy. The Buenos aires city incorporated into his kitchen several of the original recipes and in turn reversed some. Whatever the flavor, they all deserve a tasting. For this reason, we bring you a list of pizzerias Located in CABAthat offer the most tempting mozzarella pizzas.
Where to try the most tempting mozzarella pizzas
Dairy Yard
Patio de los Lecheros is a gastronomic tour located in a historic space in Caballito, with cuisine proposals for all tastes. Among the different places is Farinatta, where the pizza master Eugenio Mansilla prepares thin and crispy Roman-style pizzas, with a highly hydrated dough, resting for 24 to 48 hours and cooking on the stone. The classic mozzarella is not to be missed, but the 4-cheese one is among the favorites and combines excellent quality Gruyère, pategras, Reggiano and blue cheese.
Address: Donato Álvarez 175, Caballito.
Picsa
The modern version of the traditional Argentinian pizza can be found at Picsa, a place in Palermo that rescues the original recipe and takes it to another level, making use of the best raw materials available on the market. It is mold and firewood, with a golden and crunchy base, a well-aerated and light dough, and intense flavors. They are prepared with high hydration and slow fermentation, based on white and whole wheat flour, sourdough and poolish. They are cooked in a wood oven at almost 300°C and, in some cases, they are given a second firing at a lower temperature. Among its 20 options, the Provolone stands out, with San Marzano tomato sauce, a mixture of cheeses selected by the house, spicy provolone, salteño ground chili pepper and oregano; and the Four Cheeses, which combines cuartirolo, mozzarella, provolone and blue cheese.
Address: Nicaragua 4896, Palermo.
Benedetta
At Benedetta, chef Agustín Brañas puts his vast experience in restaurants around the world at the service of a fresh and artisan cuisine proposal, where he emphasizes the quality of the ingredients and the techniques used. In his menu there are dishes that are very much ours and flavors of the world. The pizzas are not left behind and he prepares them with organic flour, sourdough, filtered water, Mendoza tomatoes and a cheese prepared exclusively for the restaurant, with a good percentage of fat and little whey. He makes them Roman-style, with a very balanced ratio of dough, sauce, and cheese. The homemade sauce is also to stand out and is used raw, with olive oil, garlic and basil.
Address: Demaría 4709, Palermo.
Holy Pizza Bar
Located on the corner of Charcas and Godoy Cruz, Santo Bar de Pizzas offers artisanal products of Buenos Aires heritage, with a meticulous selection of ingredients. The dough for their pizzas is prepared with an exclusive blend of flours, sourdough and 24-hour cold fermentation. They are cooked in a mold and in a clay oven, being tender on the inside and crunchy on the outside, with thick and tasty edges. They have 24 classic varieties and other more original ones. The one with mozzarella is a classic that never fails: it has homemade tomato sauce, plenty of melted cheese, green olives and oregano. The Four Cheeses is also recommended, with tomato sauce, mozzarella, provolone, Parmesan cheese, blue cheese, olives and oregano.
Address: Charcas 4799, Palermo.
The Tacuara Shed
With six locations in the AMBA and several national and international awards, El Galpón de Tacuara invites you to taste a wide variety of beers made in-house. To accompany it, its gastronomic offer offers street-food options and artisan quality dishes to share. Among their homemade pizzas, the mozzarella is a favorite and is served in a rectangular format with plenty of cheese, ideal for one person or to share between two.
Address: Honduras 5560, Palermo and more branches.
spoiled
In Parque Leloir is Malcriado, a restaurant and wine bar that offers select wines by the glass (served at cava temperature from a technological dispenser), exclusive cuts of meat with different types of cooking, and dishes with comforting flavors. Their menu also includes the classic mozzarella pizza, which here is made by hand in the Neapolitan style, with a soft dough and distinctive airy edges. It has a mixture of 200 g of mozzarella cheese, roasted bell peppers and provoleta, and it ends with a crown of chimichurri and oregano.
Address: Martín Fierro 3249, Parque Leloir.
Bruce Grill Station
Also in Parque Leloir, Bruce Grill Station specializes in North American cuisine and presents a complete menu that includes meats, fish, hamburgers, salads, pastas and more artisan options, which are accompanied by an original proposal of cocktails and beers. Among its preparations, the pizzas on the stone stand out, made with a 24-hour cold fermentation and double cooking: first in the oven and then on the grill, with that unique touch provided by the coals. They offer two varieties with a lot of cheese: the mozzarella with basil pesto, and the mozzarella with cheddar cheese, crispy bacon and green onion.
Address: Martín Fierro 3246, Parque Leloir.
Mudra Plant Based
At Mudrá, a restaurant that is a benchmark in plant-based cuisine, the menu presents a limited but interesting section of pizzas that, like the rest of its preparations, are made with seasonal vegetables, mushrooms and superfoods. There, the classic Margarita stands out, which starts from a dough resting for 72 hours and combines homemade pomodoro (fresh tomatoes, oregano, olive oil and salt) and a mozzarella-type "cheese" made by hand with potato starch, nutritional yeast, lemon juice, salt and citric acid. To achieve airy edges and a crispy crust, the pizza is cooked in a 400°C oven, until gratin. Finally, they finish it with fresh oregano, green and black olives.
Address: Av. Córdoba 3942, Palermo and Av. de Los Lagos 7010, Nordelta.
Source: Ambito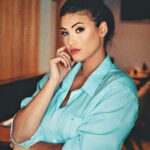 I am an author and journalist who has worked in the entertainment industry for over a decade. I currently work as a news editor at a major news website, and my focus is on covering the latest trends in entertainment. I also write occasional pieces for other outlets, and have authored two books about the entertainment industry.