To take a stand against age discrimination, Désirée Nick has let go of her clothes. At the age of 66, she graces the cover of "Playboy". A look at women over 50 who were photographed in a similarly revealing manner.
At the age of 66, cabaret artist Désirée Nick graces the October issue of the German "Playboy" and wants to take a stand against age discrimination. "Women over 50 are severely discriminated against in our society. Nobody protects us," Nick told the magazine. She also dealt with the topic in her book "Old White Woman. Why wrinkles are not a kink in your life," which will be published on September 13th.
In an interview with the star Nick emphasizes her experiences. "I want to make it clear that, in contrast to the old white man, women are pushed to the sidelines everywhere. We are not even treated equally when it comes to stigmatization! All marginalized groups have their lobbyists, but older women don't. A fine wine needs a certain maturity, "Vintage means preciousness, but with people, age comes with a loss of value. I see myself as a mouthpiece for all the Golden Girls, call me the It Girl of Geriatrics," she said.
Linda de Mol posed naked at the campsite

Presenter Linda de Mol is eight years younger than Nick, but she also appeared naked on the cover of a magazine recently. The Dutch woman posed naked at a campsite for her own magazine "Linda". "It's pretty comfortable and nice not having to deal with bikini straps, being able to swim naked right from the beach bed and having a feeling of togetherness with like-minded people," the 59-year-old commented on her post. In an article, she revealed that she could never appear carefree on the FFK beach because people "wouldn't allow her an inch of privacy." That's why she dreams of "not being a Dutch celebrity" in her next life. "In my next life I will become a committed naturist," wrote de Mol.
Actress Demi Moore caused a stir in 1991 when she was photographed naked and pregnant for Vanity Fair. Around 30 years later, Moore took off her clothes again: in 2019, at the age of 56, she graced the cover of "Harper's Bazaar" magazine without a cover. The cover story appeared almost at the same time as Moore's memoir "Inside Out," in which she gives a brutal account of her life.
The British "Vogue" also made headlines when it put the 82-year-old actress Miriam Margolyes on the cover of its July issue and even showed her naked in a photo series. Margolyes, who starred in the "Harry Potter" films, posed bare-breasted at a table with tea and cakes. Margolyes' photos were taken as part of Pride Month, and "Vogue" portrayed several personalities from the British LGBTQIA+ community for the occasion. Margolyes, who has been in a lesbian relationship since the '60s, told the magazine: "I was never ashamed of being a lesbian or anything like that. I knew it wasn't criminal because it was me. I couldn't be criminal ."
Entrepreneur Martha Stewart on the cover of "Sports Illustrated" at the age of 81

Not naked, but in swimsuits, Martha Stewart, Maye Musk and Christie Brinkley each posed individually for the swimwear issue of the US magazine "Sports Illustrated". A magazine that for decades was only known for its young cover models is suddenly interested in more mature women. "My first thought was, 'At my age? Never! When I turned 30, I thought, 'This is the last time I'll pose in a swimsuit! When this issue comes out, I'll be 63. I thought, 'This one Times are over.' But since I can do it with my girls, I thought, 'One last time!'" Brinkley told People magazine in 2017. In the photos she was seen with her daughters.
Maye Musk, mother of entrepreneur Elon Musk, made it onto the cover of "Sports Illustrated" in 2022 at the age of 74. "It was about time!" she commented on her photo on Instagram.
Entrepreneur and cookbook author Martha Stewart was 81 years old when she smiled from the cover of Sports Illustrated in May of this year. "This should have happened 30 years ago. That would have been great. It wasn't a goal I set for myself, but when I was asked, I thought, 'Let's do it!'" she told People magazine. .
The actress also took the plunge and posed for "Playboy" in 2018 – at the age of 67. It was the Brit's third shoot after 1973 and 1983. The pictures were taken on Seymour's estate in Malibu and showed her in delicate negligees and lace dresses. "I feel much sexier now than I ever have before," she told the magazine. However, Seymour didn't make it onto the cover like Désirée Nick back then.
Sources: , , , ,
Source: Stern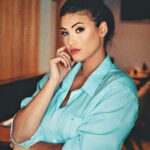 I am an author and journalist who has worked in the entertainment industry for over a decade. I currently work as a news editor at a major news website, and my focus is on covering the latest trends in entertainment. I also write occasional pieces for other outlets, and have authored two books about the entertainment industry.