Britney Spears' newly published autobiography is making waves. These are the most shocking revelations.
Britney Spears (41) unpacks mercilessly. The US singer has been making new headlines every day for a few weeks now with her new autobiography "The Women in Me" – and the book has only been officially on the market since October 24th. After a long time, Spears now describes her view of things on almost 300 pages and a total of 49 chapters…
Dedication to her sons and ghostwriters

First of all: Before you open the singer's shock revelations in the book, you can read the dedication to her sons Sean Preston (18) and Jayden James (17) on the first pages: "To my boys – you are the love of my life ." She is said to have received support from a ghostwriter when writing her autobiography. This is said to be the US journalist Sam Lansky (35), who has written for "Time" and "New York" magazines, among others, and celebrities such as Madonna (65), Nicki Minaj (40) and Adele (35) interviewed. They put these facts down on paper together.
Tough childhood in the spotlight

It's not news to most people that her childhood in the spotlight was anything but easy for the singer. However, the content of the book makes it clear once again what enormous pressure the singer must have been under since she was a teenager. In one passage she describes how she came into the limelight as a child star of the Mickey Mouse Club when she was just eleven years old.
She describes the children's show as a "boot camp for the entertainment industry" and reveals an ambivalent view of it: On the one hand, it was "every child's dream". On the other hand, "it was extremely hard work: we repeated choreographies up to 30 times and tried to do every single step perfectly." It is difficult to explain how quickly she had to develop from a little girl, then to a teenager and finally to a woman. The longing for a "normal life" grew…
Britney Spears and Justin Timberlake's feud

One person who comes off anything but well in Spears' book is Justin Timberlake (42). She was in a relationship with the singer for a total of three years in the 2000s, but the two met much earlier at the Mickey Mouse Club, where their first kiss is said to have happened during a nightly game of "Truth or Dare". In 2000, they made their debut as a couple at the MTV Video Music Awards. After further public appearances, headlines and affair rumors, the separation occurred in 2002 – Timberlake allegedly broke up with her via text message, as she now claims. She was "devastated" and was "barely able to speak for months." She also accuses him of cheating on her.
A few days ago, it became known through advance excerpts from her book that Spears was allegedly pregnant by Timberlake. He then persuaded her to have an abortion, she claims. "If it had been left to me, I would never have done it. But Justin was so sure that he didn't want to be a father." That moment over 20 years ago still doesn't let her go: "To this day, it's one of the most excruciating things I've ever experienced in my life."
Madonna was her "mentor"

It took Spears longer to get over her breakup with Timberlake: "Most days I couldn't even bring myself to call a friend," she writes. Then she received a visit to her New York apartment from none other than Madonna. "Madonna's extraordinary self-confidence helped me to see many things about my situation with different eyes." Spears believes Madonna "intuitively sensed" what the singer was going through. Madonna was like a "mentor" to her. She also introduced Spears to the Jewish mysticism of Kabbalah, whereupon Spears had one of the 72 names of God in Hebrew tattooed on the back of her neck.
The love affairs with Colin Farrell, Jason Alexander and Kevin Federline

After the end of love with Justin Timberlake, a series of new love affairs with Britney Spears followed. About her liaison with Colin Farrell (47) about 20 years ago, she writes that it was like a "tussle". "We fell on each other and fought as passionately as if we were in a street brawl." Their apparently very passionate affair is said to have lasted for two weeks; Farrell denied the love affair at the time.
In 2004 there was the famous lightning marriage with Spears' childhood friend Jason Alexander. When they got married in Las Vegas, however, she was "honestly very drunk," writes Spears today. The marriage was annulled after 55 hours.
The singer met Kevin Federline (45) a short time later; they married in September 2004 and had sons Sean Preston and Jayden James. They divorced again in 2007 – which left Britney Spears "mad with grief." Because of the custody battle over the children, she "repeatedly lost her composure."
In the year of her divorce, Spears also had her world-famous bald head shaved. She explains the radical type change in her book as follows: "Since I was a teenager, I was looked at up and down and people told me what they thought of my body. Shaving my head and acting out was my way to strike back."
Merciless reckoning with father Jamie Spears

In her book, the singer also mercilessly settles accounts with her father Jamie Spears (71). He was an alcoholic in her childhood, "when he drank he became more depressed and withdrawn," she writes. Spears was particularly afraid when she had to get into the car with her father "because he was constantly talking to himself while driving." She often didn't understand what he said. "In my family, anything could go wrong all the time."
Her father physically shamed her, telling her "repeatedly" that she "looked fat": "If I thought it was bad to be criticized in the press about my body, it hurt me even more from my father. " The feeling of never being good enough was "a soul-destroying condition" for her.
The fact that he of all people was the singer's guardian from 2008 turned her into "a kind of child robot". She was only a shadow of her former self. "Guardianship stripped me of my femininity and turned me into a child." And: "I didn't deserve what my family did to me." Her father was therefore only interested in money.
The singer endured all of this so that she could see her children. "My freedom in exchange for a nap with my children – that was a trade I was willing to make," she writes. "There is nothing I love more – nothing more important to me on this earth – than my children. I would give my life for them."
After 13 years, Jamie Spears lost guardianship in November 2021 after a long court battle. The singer is now enjoying being free and being able to post whatever she wants on Instagram to the fullest: "I know that a lot of people don't understand why I love taking photos of myself naked or in new clothes," explains she. "But I think if they had been photographed thousands of times by other people and pressured to get other people's approval, they would have understood that I get a lot of pleasure from posing in a way that makes me feel sexy and my own to take a photo."
Source: Stern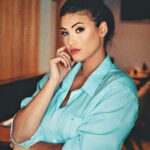 I am an author and journalist who has worked in the entertainment industry for over a decade. I currently work as a news editor at a major news website, and my focus is on covering the latest trends in entertainment. I also write occasional pieces for other outlets, and have authored two books about the entertainment industry.