We believe that the demand for industrialized construction will continue to rise in the coming years and we want to continue leading the market based on new solutions. In this sense, we are constantly looking at the market, what needs it has and how we can anticipate possible solutions. We have been working hard to raise the quality of our products, we always seek to make them the most efficient in the market in terms of sustainability standards, within a type of system that has qualities that make it very attractive to the market due to the speed in which it is produced. installation and fixed costs that do not have major variations during the course of the work. We are going to continue expanding in the modular construction market based on new product developments with the highest quality standards that characterize us. Also, we plan to export these homes to the Mercosur countries in the short term. The plan is to open a new plant to supply these new markets. But this expectation brings us new challenges due to the current situation. In our case, guaranteeing the future of the sector implies generating a workforce, from highly qualified personnel to operators. Undoubtedly, the constant increase in all costs creates great difficulties for all industries and ours is no exception. Regarding ECOSAN, it was a year of sustained growth within what we have been having year after year, where we worked on many projects simultaneously, managing to position modular construction and its high performance in the market. Demand and the desire to grow are taking us in other directions, always with a focus on constant innovation in new business units.
270 people work permanently in the company and almost the same number in suppliers that make a service for our company. In other words, we directly and indirectly employ more than 500 people. For our sector it helps to promote everything that is housing loans, incentives for construction, a tax reduction in the construction system would be very important to promote private investment and public policy for the construction of social housing, it would make the sector grow a lot of construction in general and, in particular, ours.
Our goal is to continue leading and expanding the modular construction market, developing its full potential and our architecture area, where we work for the government, business, and residential segments. We also launched a line of premium houses, with a comprehensive "turnkey" construction system, where we carry out the entire process that goes from civil works, construction and equipment, to the delivery of plans as built, with a preventive maintenance manual that allows for easy repairs and with lower maintenance costs than with the traditional system.
Source: Ambito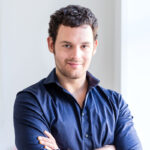 David William is a talented author who has made a name for himself in the world of writing. He is a professional author who writes on a wide range of topics, from general interest to opinion news. David is currently working as a writer at 24 hours worlds where he brings his unique perspective and in-depth research to his articles, making them both informative and engaging.