Florence Canale: Her name was Manuela Sáenz de Vergara y Aizpuru, but as you say she was called everything. Bastarda was one of the epithets with which they marked her for being her illegitimate daughter. That title can be perhaps a bit provocative, as are the editorial decisions.
Q.: Manuela, who did not lack love, what happened to San Martín?
CF: I did not want it. The one who had relations with San Martín was her friend, the actress Rosita Campuzano, who was called "the protector" because it was known that she was the lover of San Martín, who had been declared The Protector of Peru. San Martín is going to help Manuelita become the heroic Manuela Sáenz, due to her active militancy in the patriot cause, she names her Knight of the Order of the Sun, an honorary title that was exclusive to men. A decoration that until then the revolutionary Peru granted only to the men dedicated to the cause of liberation, a title that Manuela earned in all her law. From then on, she became a key woman in the independence process. Manuela and San Martín were the water and the oil. San Martín was reflective, hermetic, reserved, discreet, austere, and Manuela was the complete opposite. Bolívar asks Manuela for references to San Martín when she goes to meet him in Guayaquil. Two hundred years have just passed since that enigmatic and fundamental encounter. Manuela tells Bolívar that San Martín seems soft and not very fond of action. She harasses Bolívar so that he arrives in Guayaquil earlier, that he be the one who makes the decisions. San Martín delivers the credentials and I got here. San Martín was a soldier, a strategist, Bolívar a man with a desire for power. Manuelita demands more action from Bolívar. She agrees, but she has to get her off her back because she sometimes finds her reckless and dangerous.
P.: It was literally a woman with arms to bear.
CF: To trigger and shoot. He asked Bolívar for the heads of some enemies who, at that point, were not Spaniards but from within.
Q.: Were you the creator of the idea of ​​"the great homeland", which Simón Bolívar made his own?
CF: When she spoke of herself, Manuela did not say she was Ecuadorian but American, she wanted the liberation of the entire continent. She was a revolutionary without fear of failure. She did not consider the possibility of the fight going wrong. She was how she was, finally.
Q.: Why did they call her "the liberator of the Liberator"?
CF: He earned that for saving Bolívar's life twice, putting his own at risk. The first was at a party in a theater. Manuela had a spy network and she had known that they were going to kill him there. She had to overcome the omnipotence of Bolívar, who told her: no one kills me. The second time, when she goes looking for him to kill him, she forces him to escape through the window, and she is bound to be beaten.
Q.: How does the sentimental encounter that is the axis of your novel take place?
CF: Bolívar was already a kind of demigod when he made his triumphal entry into Quito. Manuela wants to meet him. At the banquet that the wealthy Quito Juan Larrea offers Bolívar, he introduces him to Manuela Sáenz de Thorne, his married name, and the procession begins. Bolívar was a great seducer, but she was not far behind. Before the astonished gaze of those present they danced, chatted, drank, publicly exposed their love affair. They walked arm in arm down the street. They liked to provoke. They spiced up the romps with political discussions. Politics and passion made the nights long. They were hot-blooded, not like San Martín and Rosita Campusano who hid.
Q.: After Bolívar's death, Manuela lives in exile, but her fame makes Herman Melville visit her.
CF: The extraordinary author of "Moby Dick" was a sailor and was interested in everything that was happening in America, and when the ship he worked on arrived at the port of Paita, he did not deprive himself of going to meet her. Garibaldi, Simón Rodríguez, the philosopher, Bolívar's teacher, the Peruvian writer Ricardo Palma, among others, also went to see her. Manuela was the great matriarch in exile. It was like Roses in Southampton that celebrities would visit to hear her knowledge. Manuela lived in the most extreme poverty and to survive she made sweets with her eternal and loyal companions, the black women Natán and Jonatás. She was a persecuted woman, exiled, who died of dysentery and was thrown into a common grave. She provoked the fury of her opponents who wanted her prey to her.
Q.: What led you to write historical-romance novels?
CF: I am interested in pure and hard history, and also when it is fictionalized in different formats. It all started for me with "Pasión y treason", the story of Remedios de Escalada and José de San Martín. I think that I did not leave the historical novel when investigating the life of Remedios. I am a descendant of her. There's a missing link I'm trying to find. Perhaps the search for that origin made my interest broaden to the past, to our history, to the role of certain key women.
Q.: What is your next mission in that quest?
CF: How I like that mission, it sounds like a mix of investigation and espionage. I already started writing. This time it is the story of a man from the 19th century, which is the century that interests me.
Source: Ambito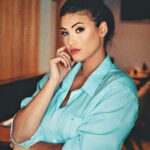 I am an author and journalist who has worked in the entertainment industry for over a decade. I currently work as a news editor at a major news website, and my focus is on covering the latest trends in entertainment. I also write occasional pieces for other outlets, and have authored two books about the entertainment industry.