Casir dos Santos continues to present original novelties and for the toast at recent parties he added a new label of elaborate pink bubbles based on Pinot Noir grapes from La Carrera, one of the highest areas of the Uco Valley, at 2,000 masl. Avatar Extra Brut Pink is a fresh, elegant sparkling wine, with good structure and very delicate, ideal for this time of year.
Since the arrival of the Eng. Julia Halupczok, as General Manager to Casir dos Santos, the winery began to make a turn in the production of its wines. With a renewed air and a great innovative vision, Julia projects the young and entrepreneurial spirit of Casir Dos Santos, setting a new course in the winery's oenology and viticulture.
"Avatar is the line where we allow ourselves to experiment and always propose new, fun products for all tastes and moments", says Julia. "That is why we dared with a sparkling wine with the characteristics of Avatar Extra Brut Pink that is made with grapes from La Carrera, a cold and high area of ​​Valle de Uco. These conditions result in an ideal microclimate for the base wine of the Pinot Noir variety, since it is obtained with low alcohol and high natural acidity", explains the WineMaker. "The second fermentation was done using the charmat method and it was kept with lees for 6 months, which gives it great personality," she adds.
Suggested price: $2,700.
Organic Malbec from Pulenta Estate
Pulenta Estate Winery presented its novelties: the Pulenta Estate Cabernet Franc is a highly anticipated launch as the winery is internationally recognized for its Cabernet Franc from the Gran line. Also, the Organic Malbec from Pulenta Estate It is part of a development of the Research and Development team of the winery. "We started thinking about being organic a while ago, because in reality we were already working organically but without certification," he commented. Edward Pulenta. "It is a process that we are already starting, but we also wanted to know how that translated into an organic wine with the Pulenta Estate style," he added.
Intense purplish red in color, its aroma is full of red fruits and flowers, such as lilacs and violets. Young wine, on the palate, it is round, with good character and remarkable structure, it has pleasant tannins that give it great complexity and an unforgettable finish. Its harvest and manual selection of bunches and grains in the winery undergoes alcoholic fermentation in stainless steel tanks and concrete pools. This organic wine is without malolactic fermentation and without aging in wood.
"Our clients have been asking us for this wine for a long time, since the Cabernet Franc from the Gran line tends to run out as soon as we present the new vintage. For this wine, we thought of Cabernet Franc for the Pulenta line. We seek to achieve a wine that represents us in style, an elegant, friendly Cabernet Franc but that will also let the purity of the varietal that thrives so well on our Alto Agrelo estate shine through," he explained. Javier Lo Fortewinery winemaker.
In 2013, Bodega Finca Las Moras obtained the certification of the Social Responsibility and Fair Trade program: Fair For Life. This program guarantees the good practices of the winery on issues related to social responsibility, the environment and good agricultural practices, working conditions and relations with the community.
The first sale of this line of certified wines took place in 2014 in the European market. Currently, Finca las Moras sells wines under this certification to countries such as the United Kingdom, the main destination, as well as Sweden, Germany, Belgium and Finland. This launch in the Argentine market is part of a sustained work of the winery in its commitment to good practices in economic, social and environmental development.
Under the FFL line, the winery launches three wines elaborate with grapes from their own farms in the province of San Juan: a Malbec from the province of San Juan; a Cabernet Sauvignon ideal to serve with roast meats and hard cheeses; a golden colored Chardonnay, with greenish reflections and an aroma of red apples, honey and cinnamon.
Libarna arancione 2021, from Finca las Glicinas
Orange wines are gaining more and more prominence among Argentine consumers and make it an ideal type of wine for those looking to try different things. For this low-intervention natural orange wine, winemaker Bernardo Bossi Bonilla opted for a blend of 60% Semillón, 30% Chardonnay and 10% Sauvignon Blanc. The grapes come from Paraje Altamira, Mendoza, and as a result an ideal wine for gastronomic pairing was obtained: its ever-present acidity makes it a persistent wine.
It stands out for being a wine with a sustainable philosophy, since it is closed with recyclable corks produced by the company Vinventions: its Nomacorc Green Line line supplies the industry with corks made from sugar cane, with zero or minimal carbon footprint. .
Suggested price: $4300
Mastrantonio Family Blend, from Mastrantonio Wines
This malbec and petit verdot blend is part of the Mastrantonio Wines portfolio, the personal venture of Diego J. Mastrantonio. It is a wine that was born in 2015 as a blend created from the vineyard, with a co-fermentation of malbec and petit verdot grapes, which are harvested together at their optimal point of maturity, and then fermented in oak barrels.
Why try it? Prepared by the winemaker Sebastian Bisolethe new vintage of this limited-order wine is already on the market that is worth discovering and uncorking to welcome the new year.
Suggested price: $12,900
Cruzat ICE: from Bodega Cruzat
To sweeten and refresh the peak season of bubbles, the winery introduced its new label, Cruzat's first in the ICE category: a sweet sparkling wine made using the traditional method, designed to be enjoyed neat, on the rocks or in a cocktail.
Bodega Cruzat, the only Argentine winery specializing in the production of sparkling wines using the traditional method, launched Cruzat ICE on the market: a sparkling wine with sweetness and acidity at the right point.
This new sparkling wine is made using the Champenoise method with grapes from their own vineyards located in Perdriel, Luján de Cuyo. It is a cut 60% Pinot Noir and 40% Chardonnayvery versatile designed for all consumption occasions: it can be enjoyed neat, with ice or in a cocktail.
With 12 months of contact on the lees, it is one of the few sweet sparkling wines on the Argentine market made using the traditional method and is the first from the winery in the ICE category: sparkling wines specially created to be drunk with ice.
"Cruzat ICE stands out for its sweetness and balanced acidity. This makes it very refreshing and does not lose its essence when ice is added", explains Lorena Mulet, winemaker at Bodega Cruzat.
Bodega Trapiche, combines the Mendoza land and the best technology to achieve unique specimens, and knows the culture of national roots. To celebrate the Argentine cultural value, the new wine that goes back to the beginnings arrives at the local market: Origin By Trapiche.
The development of this new proposal in the most relevant market segment in Argentina, is born from an increasingly sophisticated consumer and seeker of superior quality proposals.
Trapiche cares about principles, which is why, from the beginning, the winery made a great commitment. Starting with the land chosen to cultivate the first vines to the way of treating and respecting the soil. This is how Origen by Trapiche was born, a line of wines different from those of its category… because a beginning is much more than a beginning.
Two examples that mark a path back to those values ​​that make the winery what it is today. Origin by Trapiche It comes in two varietals: Malbec and Cabernet Sauvignon.
"With great pride, we have the honor of presenting Origen, the wine from the Trapiche winery that undoubtedly emerged to mark a path back. It is a nice project that was born about a year and a half ago, when we got together with the technical and marketing team looking for a new style of wine and this great idea of ​​making one in the 'old-fashioned way' arose, with that nature that gives us the Valley without so much intervention, without wood, of course. Malbec, for example, comes one hundred percent from the Uco Valley. We wanted to put the maximum expression of the Valley in a bottle: the cherry, the cherry, the red fruit, helping with everything that the height and the different types of soil contribute, that feeling of velvet, those kind tannins that make it a very easy to take", he expressed regarding this release Sergio Casewinemaker of the winery.
Elite Cabernet Franc, from La Celia
Bodega La Celia, pioneer in Valle de Uco in the province of Mendoza, one of the most important areas of the wine industry worldwideincorporates a new Cabernet Franc wine that adds to its portfolio and seeks to consolidate itself in the domestic market with the quality and excellence that characterize it. Is about La Celia Elite Cabernet Franc 2021.
La Celia was the first winery in Argentina to vinify Cabernet Franc as the only variety in 2020 and put the name on the label. Today it celebrates its day with the launch of this new wine, from this strain, originally from France, which was originally used in Argentina as a structural component in red blends and which, over time, gradually became a single varietal per se. , with unique characteristics that stand out.
"We are proud to be able to expand our portfolio precisely with this iconic strain for the winery, with which we have a strong emotional connection. We started years ago, when there was almost no area cultivated with Cabernet Franc in Argentina, to place the name of the strain on a label, as a unique variety. For the entire team it is synonymous with quality and distinction, its vintage is highly anticipated and desired; since it is planted in our own vineyard in La Consulta and Paraje Altamira; terroirs with unique qualities that add to their elegance and refinement", comments Andrea Ferreyrahead of oenology at the winery since 2012.
Source: Ambito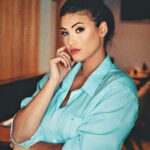 I am an author and journalist who has worked in the entertainment industry for over a decade. I currently work as a news editor at a major news website, and my focus is on covering the latest trends in entertainment. I also write occasional pieces for other outlets, and have authored two books about the entertainment industry.