Valéry specialists suspected that transcripts of these courses existed, without knowing where exactly. The documents that testify to the first cycle of the course were miraculously found in the archives of the Gallimard editions, details who located them, the researcher william marxaccording to the French evening newspaper Le Monde.
Although the critic and editor acknowledges that "Valéry's teaching was quite arid", he sees in it "a capital moment of literary and aesthetic reflection, an authentic monument of thought". Together with his team, he made the complete stenographic transcription of the poet's first sixteen lessons, which, added to the other documents destined for the "Professor Valéry" course, throws up enlightening concepts about literature.
As Marx points out, the writer no longer had anything more to prove. However, he meticulously accomplished his mission by deploying, at the end of his existence, a theoretical system accessible to his audience. But while I was waiting to hear him talk about this or that author, this or that novel or poem, here he focuses mainly on the study of poietics (from the Greek poiein, "to do"), that is, the production of "works of the spirit" in general. , understood in the physiological, anthropological and social sense.
The Collège de France course gives a very detailed vision of his conception of artistic and literary creation. It is traversed by the tension between the freedom of inspiration and the need for a form. In January 1945, for example, during a course entitled "Advice for Young Writers", he summarized: "If to do this work, if to do this book, you have developed in yourself some of your faculties to the extreme, for this very close work that you are doing, first you have the possibility of surviving a little, of distinguishing yourself in an era (…), but above all you will have gained something in yourself".
Born in Sète -in the south of France- in 1871, Valéry was the first author of symbolist poems before suffering an intellectual crisis in October 1892, during the "Genoa night", when he abandoned poetry to dedicate himself entirely to the rigor of life of the spirit It was not until the early 1910s that he returned to poetry and published his great masterpieces, "La Jeune Parque (1917) and Charmes (1922). In 1937 he was elected a member of the Collège de France to give poetry classes there until his death. in 1945. Classes on poetics, not poetry, that is, on this discipline that questions the properties of literary discourse and identifies the general laws that make it possible to account for works.
Source: Ambito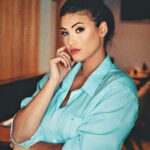 I am an author and journalist who has worked in the entertainment industry for over a decade. I currently work as a news editor at a major news website, and my focus is on covering the latest trends in entertainment. I also write occasional pieces for other outlets, and have authored two books about the entertainment industry.