Transgender influencer Jolina Mennen wants to "create a point of contact in the jungle camp and thus break prejudices and fears".
After three gender reassignment surgeries, the beauty influencer Jolina Mennen (30) has been living as a woman since 2017. From January 13, she ventures into the RTL jungle camp. "I consider it an enormous honor to be part of the spectacle this year," said the 30-year-old.
"Unfortunately, we in Germany still lack representation when it comes to trans people in public. I want to create a point of contact and thus break prejudices and fears," she explains in an interview with the news agency spot on news and also talks about her greatest fear which even made her collapse a few days ago. "I have a completely irrational fear of frogs."
How excited are you for the jungle camp?

Jolina Mennen: Unimaginable! The jungle camp is one of the most successful shows in Germany and I consider it an enormous honor to be part of the spectacle this year.
How did you prepare?

Mennen: I had big plans ahead of time in terms of preparation, no coffee, quit smoking, do a juice cleanse to prepare for eating less… Well, in the end I didn't do any of that and now I'm jumping in the cold Water.
Your husband accompanies you to Australia, what does he think of your participation?

Mennen: My husband Florian, like me, has been a jungle camp fan from the very beginning and follows the new season every year. I am incredibly happy that he supports me in this project and has my back during this exciting time!
After three gender reassignment surgeries, you have been living legally as a woman since 2017 and now you want to be a role model with your participation. What do you want to show/give to the people out there?

Mennen: Unfortunately, we still lack representation in Germany when it comes to trans people in public. I want to create a point of contact and thus break prejudices and fears. Of course, my life is not universal for every trans person, but it can be a first step to stand up for more acceptance and hopefully equal rights as a result.
In the current issue, your jungle camp colleague Cecilia Asoro adorns the "Playboy" cover, what do you think of the pictures?

Mennen: This year my fellow camper Cecilia cut a terrific figure on the cover of "Playboy". I am very happy for her and wish her from the bottom of my heart.
You have been successful on YouTube with your vlogs and tutorials on beauty and make-up since 2008. How difficult is it for you to show yourself completely without make-up in the jungle?

Mennen: In fact, I'm probably the biggest farmer at this year's camp. For me, make-up is an art form, a passion and at the end of the day my job, but God knows it's not essential. I have no problem being in front of the camera without make-up, which is really important that you wear your heart in the right place and when in doubt, the best concealer won't help.
What will you miss most in the barren jungle life?

Jolina Mennen: I will probably miss the contact with the outside world the most. I've been online every day since 2011, whether it's a wedding, surgeries, car accidents… I take my viewers with me every day of my life, and I really appreciate our sharing. Social media is definitely a two-way street for me, and not having the news from my community, friends, family and colleagues for two and a half weeks at best could be pretty tough.
Hunger, crawling animals, etc.: What could be your undoing in the jungle?

Jolina Mennen: Unfortunately, a few days ago, contrary to my plan to remain silent, my biggest phobia was pinned on the production team. I have a completely irrational fear of frogs. However, I have been told that the confrontation in the jungle should be a very successful therapy for this phobia.
The fact that your phobia became public took a toll on you and even made you break down, how are you doing with it now, had you considered breaking up?

Jolina Mennen: I recovered a bit and got over the shock. Canceling is not an option, I will not run away from my fear!
How afraid are you of having to face your frog phobia at camp?

Jolina Mennen: Incredibly tall. I just can't guarantee how my body will react in such a situation, but on the other hand I think to myself, if not now, then when?
Do you have a limit when it comes to exams?

Jolina Mennen: I find it difficult to define personal boundaries in advance. I'm an absolute gut feeling person and will have to be surprised, nonetheless, my big goal is to make my loved ones proud and if that means growing from my fears, I'm ready for this challenge!
How do you rate your competitors? With whom will you get along well, with whom could you possibly offend?

Jolina Mennen: I think we will have a very strong group dynamic this year. I'm looking forward to each and every one of my fellow campers and I'm sure we'll have interesting conversations. I can't yet assess whether and with whom it could ultimately collide.
How do you rate your chances of winning? Do you think you can win the crown in the end?

Jolina Mennen: Of course it would be an incredible feeling to come home with the crown and join the jungle king family. I think I could give a lot of courage and hope to a lot of little Jolinas out there. But come what may, I'll try to make her proud.
Are you hoping for a career boost from your participation in the jungle camp, how should it continue after that?

Jolina Mennen: The jungle camp offers us participants an enormous platform and of course I'm happy to reach new people through it, but first and foremost I see the format as an opportunity to surpass myself. I mean, when in life do you get a second chance to choke down kangaroo testicles in front of Germany? So in 50 years I will at least have the coolest stories to tell in the nursing home.
Source: Stern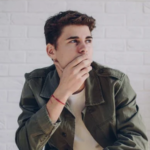 I am a 24-year-old writer and journalist who has been working in the news industry for the past two years. I write primarily about market news, so if you're looking for insights into what's going on in the stock market or economic indicators, you've come to the right place. I also dabble in writing articles on lifestyle trends and pop culture news.