Actually, Tatjana Patitz from Hamburg did not fit into the modeling industry. At least for the taste of the 1980s. But one knew: "This woman has something."
Tatjana Patitz had her last major appearance in Germany in early December 2017, less than six years ago. There she walked for a Chanel collection by Karl Lagerfeld in her hometown of Hamburg across the Elbphilharmonie, for two laps on this cold Hanseatic catwalk. Your last production with the star she had had the year before, a fashion production with Peter Lindbergh in downtown Los Angeles.
At nine o'clock sharp on a Sunday morning in June 2016, she had arrived on a hotel roof with Helena Christensen, Amber Valetta and Mila Jovovich. She brought her son Jonah with her from Santa Barbara. The 12-year-old was appalled that no other boy his age was there, only smaller children, and all girls at that. Putting his arm over his shoulder, Patitz led him over the extensive roof and told him that almost twenty years earlier a famous film had been shot here by a German director: "The Million Dollar Hotel", a story by German director Wim Wenders about the power of unconditional love.
"I'd say to my daughter, I'd rather study"

Patitz seemed a little lost that day. She hardly spoke to her colleagues, there were probably no glorious anecdotes. She said she was homesick for Germany: "There's a lot of forest there, but the winters are so long. And we have our roots in California."
She had just moved and sold her ranch near Malibu. It was "beautiful", but "veeeeery secluded", good for "horses and dogs", but not to live there alone with her son. In addition, Malibu itself has become "schickimicki", is "only Ferrari and celebrity bullshit, it's like Rodeo Drive by the sea". She didn't want "Jonah to grow up among kids who, by the age of 12, are already showing their black credit cards and talking about their private jets."
Their new home was Santa Barbara. Her son, whom she raised alone, was from her marriage to American businessman Jason Johnson, from whom she divorced after six years in 2009. "We don't hear from him. Of course it hurts him," she said. And was quite happy to have a son: "As a young girl, I would never start in the modeling business again. I'd say to my daughter that I'd rather study. Fashion has become a brutal profession."
The birth of the supermodel

While Peter Lindbergh was talking in his sluggish English during the lunch break on the hotel roof about his seven Apple computers and that he had lost 18 kilos in three months ("No scrambled eggs and no fruit in the evening, the body doesn't build the sugar more off."). Yes, and also that he had recently introduced his son to man's life in a whorehouse, Tatjana Patitz ignored and smiled anyway.
Like the other women here, she had passed her prime as a model and was now, at fifty, at the mercy of famous photographers. Lindbergh knew exactly who and what was hot: Patitz had just made a comeback, appearing on the covers of French Marie Claire and Italian Vogue.
Patitz was indebted to Peter Brodbeck, Lindbergh's real name: in 1988 he photographed a handful of relatively unknown girls in white T-shirts on the beach, without make-up. The group picture with Naomi Campbell, Linda Evangelista, Cindy Crawford, Christy Turlington and Patitz was chosen by "Vogue" as the picture of the nineties, it is still considered the birth of the supermodel.
Patitz, who lived in Paris at the time and kept her head above water with a handful of low-paying jobs, had already thought about quitting. The hamburger was too voluptuous for the taste of the time, too big and simply not catalog-beautiful. But Lindbergh looked at her and knew: "The woman has something." A year later, she earned her first million dollars. From one day to the next, designers and cosmetics houses pounced on these women and gave them exclusive contracts. "Their individuality was bought away from them," Lindbergh would later say in retrospect.
Tatjana Patitz, the romantic one

During the fashion shoot in Los Angeles, none of the legendary models struck a pose. They all acted with sparing movements, they all knew what Lindbergh wanted from them, like an old husband whose wishes are known after decades. As the star When Lindbergh once asked which of his models he would have liked to have had sex with, he replied, "Maybe Tatjana Patitz, because she's the most romantic." Nothing came of it.
Yes, she always looked romantic, she had a face like something out of a sad fairy tale. But over the years it became more and more melancholic. Even that day on the hotel roof she didn't look happy, not carefree. The way to work hadn't been far. She lived in Malibu, far from the world that was being looked down on this early Sunday morning: on streets where not only had hundreds of homeless people slept and were now rolling up their sleeping bags or stashing boxes.
Around noon, noise suddenly reached the roof: the left-wing democrat Bernie Sanders worked the electorate that day all the way to the distant Santa Monica Pier. Of course, Patitz was also on his side, but the shouts from his supporters – "That's our next president!" – should not come true. Donald Trump was still a stupid, hopeless clown in those days.
Patitz was the first to head home with her son. A year and a half later she returned to Germany for Lagerfeld's Chanel show.
Source: Stern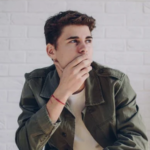 I am a 24-year-old writer and journalist who has been working in the news industry for the past two years. I write primarily about market news, so if you're looking for insights into what's going on in the stock market or economic indicators, you've come to the right place. I also dabble in writing articles on lifestyle trends and pop culture news.