If your favorite pair of jeans pinches your stomach or brings unpleasant problem areas to light, many people feel uncomfortable in their own skin. Luckily, there are simple styling tricks you can use to camouflage your tummy.
Everyone perceives their body differently: Opinions differ, especially when it comes to the figure. One feels too thin, the other too fat – and quarrels with his small rolls of fat. We should just love each other the way we are, with and without a few extra pounds on our ribs. And even if we would wish for a slimmer center in one or the other outfit, that is by no means a reason to despair. Because, thanks to the fashion industry, there are numerous items of clothing that can hide your stomach and, on top of that, magically shed a few pounds. This means not only the classic shapewear for men and women, but the entire styling. We'll give you a few tips.
Conceal the stomach: styling tips to imitate

1. Shapewear
Figure-shaping (underwear) is an effective tool if you want to hide your stomach. The solid fabric hides unwanted love handles to conjure up a slim silhouette. The practical thing about shapewear is that it is worn under clothing and is therefore not visible. If or panties or – there are figure-shaping underwear for every outfit. When buying, however, be sure to pay attention to the size of the clothing: choose your usual clothing, otherwise the material is too tight and puts too much pressure on your skin. This is not only uncomfortable, but can also lead to skin irritation. And another tip: if you want to cover up your lower abdomen, the better choice. If you want to conceal the upper abdomen, the end up.
2. High waist pants
Not only have they been very trendy for a long time, they also make small rolls of fat disappear: high-waist trousers from brands such as khujo, or Zero are, as the name suggests, cut higher and thus cover not only the waist but also the lower abdomen. The longer cut will automatically make you appear taller and slimmer. In combination with a loose-fitting top that you either tuck in or let fall over the waistband, you get a beautiful silhouette. On the other hand, you should avoid trousers that only reach the hips and thus emphasize your curves and problem areas more. The same goes for pleats that add unnecessary bulk and accentuate your body at the wrong curves – and particularly tight tops. Rather rely on casual and airy cuts.
3. Colorful patterns
Patterns are also a popular stylistic device to hide your stomach. The most important rule here is: the bigger your figure, the larger the prints should be. So-called all-over prints are also particularly popular this season , and , which distract from the figure due to the abundance and density of patterns. The same applies to the combination of two different pieces of clothing with different prints – for example a striped skirt and a blouse with a floral pattern. They distract from your actual problem areas in a fashionable way. Longitudinal stripes also achieve a similar effect: They make the upper body appear longer and therefore automatically slimmer. Horizontal stripes, on the other hand, have the bad reputation of only being suitable for slim people. But that's not true: A single horizontal stripe in the chest area, for example, emphasizes the upper body and conceals the stomach.
4. Dark colors
It is not without reason that black makes you slim. In fact, dark colors can hide the stomach by absorbing the light and are therefore automatically less noticeable than light colors. This is what makes people who wear slimmer than those who wear bright colors – because they broaden the appearance. Of course, you don't have to give up color entirely to look slimmer. Instead, you can, for example, wear a dark-colored piece of clothing wear in the shoulder or décolleté area. Or you can try a high-cut one or one that you combine with a colorful top. However, always pay attention to smooth transitions, since strong contrasts apply in turn. And that's not the point.
6. Flattering cuts
Last but not least, there are many cuts that flatter the figure from the ground up. Regardless of whether you want to hide your stomach or not. These include above all : They are cut in such a way that the fabric protrudes from the body at the sides, skilfully covering up small love handles on the stomach. The same applies with a wide décolleté that is gathered under the bust – it distracts from the stomach and emphasizes the bust. The same applies to items of clothing that you or must. These cuts always help to emphasize the body in other places and to skilfully conceal unwanted areas.
7. Stretching tops
As already mentioned, the stomach can be well concealed with clothing that optically lengthens the upper body. These include above all tops, shirts, dresses or sweaters that have a V-neck or vertical stripes. But button plackets in the middle of the garment or zips can also distract from problem areas. It is particularly important that the fabric does not end above the hips, but below. Alternatively, you can tuck a long top into the waistband, both at the front and at the sides are ideal so that the fabric can still fall loosely. Also suitable for lamination and that reach over the stomach. It is also important that slacks and oversized tops are better suited for smaller breasts and empire lines for larger ones.
7. Flowing fabrics
Jersey is a popular fabric in the fashion industry, but it has one major disadvantage: It is very thin and elastic – which means it literally sticks to the body and thus emphasizes unwelcome problem areas. The same applies to cable knits and knitwear, which are usually very body-hugging. If you want to hide your stomach, it is better to use flowing and smooth fabrics such as or cotton blends that are not bulky. Delicate flounces and above the navel are also allowed: They distract from the middle of the body. Also make sure that the clothing you choose is matt and not shiny, as reflective surfaces also add to the surface.
Source: Stern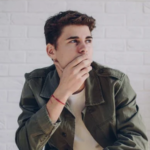 I am a 24-year-old writer and journalist who has been working in the news industry for the past two years. I write primarily about market news, so if you're looking for insights into what's going on in the stock market or economic indicators, you've come to the right place. I also dabble in writing articles on lifestyle trends and pop culture news.