Janis Joplin would have turned 80 this Thursday. A look back at the life of the first ever female rock star.
Janis Joplin (1943-1970), who would have celebrated her 80th birthday this Thursday (January 19), became an icon in her short life – not only because of her successful music, but also her influence on a strong image of women, for a long time before feminism became the central theme.
Janis Lyn Joplin was born on January 19, 1943 in Port Arthur, Texas. Her father was an oil company employee and her mother was a clerk. Joplin grew up with two younger siblings and was encouraged in the arts by her mother. She sang in the church choir and took private art lessons. She later discovered her passion for blues and folk music and moved to California at the age of 18 with a high school diploma in her pocket to become a singer. One of her greatest role models was jazz and blues legend Bessie Smith. In 1970, Joplin had a tombstone erected for the musician, who died in 1937, with the inscription: "The greatest blues singer in the world will never stop singing."
In Los Angeles, Joplin sang in bars and folk clubs and earned a reputation as "the queen of white blues rock." There hasn't been a white singer with such a voice and such a self-confident appearance – she liked to drink whiskey on stage and let out rough jokes – until now. She was later hailed as the first female rock star to sing with full body and twirl around on stage. "She stood in front of her audience, microphone in hand, long red hair wagging, her raspy voice screaming. Beads of sweat flew off her contorted face and glistened in the headlights. Janis Joplin sang with more than her voice," shortly after her death in 1970 .
Legendary Woodstock performance

After a stint in Louisiana, Joplin returned to Texas and went to college in Austin. Because of her clothes, she had to eke out her existence as an outsider and suffered from bullying as she did in her school days – one more motivation for Joplin to focus on her career and her success. In 1966, the manager of Big Brother and the Holding Company informed her that the rock band was looking for a female singer. In the same year, the musician with the rough voice moved to San Francisco and released the first two albums "Big Brother and the Holding Company" (1967) and "Cheap Thrills" (1968) with the formation. On the latter was the cover version of Erma Franklin's "Piece of My Heart". The song is considered to be Joplin's most commercially successful song. It made the Rolling Stone List of 500 Greatest Songs of All Time at number 353 and was inducted into the Rock and Roll Hall of Fame's 500 Songs that Shaped Rock and Roll. Over time, the song has been covered by numerous musicians.
In 1968, Janis Joplin split from the band and named her third album I Got Dem Ol' Kozmic Blues Again, Mama after her new band, the Kozmic Blues Band. In 1969 they performed at the legendary Woodstock Festival and inspired the masses of the hippie movement. But the performance also showed the negative consequences of Janis Joplin's excessive life. With her success as a singer, her alcohol and drug use also grew. At the festival she seemed heavily intoxicated and her singing was brittle. In 1969, the band toured Europe on a small tour, and Janis Joplin's only appearance in Germany was on April 12 at the Centennial Hall in Frankfurt. In 1970 the band broke up and Joplin decided to take a vacation to South America to cure her drug addiction. Back in California, however, nothing changed in the musician's lifestyle. In contrast to her previous formation, Joplin harmonized perfectly with her third band, the Full Tilt Boogie Band, together with her she celebrated her late and greatest successes.
"Janis died of an overdose Janis"

In 1970 the group recorded the LP "Pearl" at Sunset Sound Studios, which included the song "Mercedes Benz", which tells of the illusory happiness promised and seldom delivered through the pursuit of worldly goods. When Janis Joplin failed to show up at the studio on October 4, road manager John Cooke searched for her and found her dead on the floor of her motel. Officials say she died of a heroin overdose. Rock colleague Eric Burdon (81) once put it this way: "Janis died of an overdose of Janis." Three months after Joplin's death, "Pearl" was released and became a box-office hit. It was number one in the US album charts for nine weeks. Her only number one hit "Me and Bobby McGee" is also on the record. "In the song she liked the line 'Freedom's just another word for nothing left to lose.' [Freiheit ist nur ein anderes Wort dafür, nichts mehr zu verlieren zu haben.]", . "I think that was really key in her perspective on everything. 'Hey, I've got nothing left to lose here, let's try.'"
Shortly before her death, the singer had signed her will on October 1, 1970. 200 friends were supposed to drink away the remaining $1,500 in cash. The rest of the fortune went to her parents and siblings. "Live fast, love hard, die young" – along with Jimi Hendrix (1942-1970) and Jim Morrison (1943-1971), Joplin is still one of the central figures of hippie culture. Despite her vulnerable side, women see her as a symbol of strength because she has publicly revealed any emotions. Joplin, who lived to be just 27, is part of the 27 Club, which includes a number of important musicians who died at the age of 27. In 1995 she was inducted into the "Rock and Roll Hall of Fame" and in 2013 she received a star on the Walk of Fame.
Source: Stern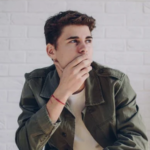 I am a 24-year-old writer and journalist who has been working in the news industry for the past two years. I write primarily about market news, so if you're looking for insights into what's going on in the stock market or economic indicators, you've come to the right place. I also dabble in writing articles on lifestyle trends and pop culture news.