It had a previous opening in the street with the performance of the "Guardian of the Sea" and then in the main hall the singer Coral Campopiano sang for the nominees, followed by the words of the president of APTRA Luis Ventura.
The event began with a recognition to the owner of the house, Jose Luis Barrionuevo Head of the Union of Workers of the Tourism, Hotel and Gastronomy of the Argentine Republic (UTHGRA) who said "thank you all for coming. We are convinced that communication will go through digital, we already started it in our union and we were among the first".
Among those present was the Minister of the Interior Eduardo "Wado" de Pedrothe mayor of Mar del Plata William Montenegro, louis ventura, Grace Borges, Jose Alberto Martinez (the father of the goalkeeper of the soccer team "Dibu"), theatrical producers, artists who spend time in Mar del Plata and personalities from the "happy city".
The actress was honored at the ceremony. Grace Borgesto the father of "Draw" Martinez José Alberto Martinezthe Heroes of Malvinas, the digital medium La Tecla and Mdz Online and The Luthiers before his farewell from the stage.
Among the winning shortlists tonight in "the happy city" were:
Best native integral journalistic production: Channel 22.
Best program in digital transition: Odidea
Best digital news outlet: Infobae.
Best international digital significance: Telam News agency.
Best written press digital medium: Infobae.
Best native written press digital media: Urgente24.
Best Digital Fiction Content for Platforms: The Manager – PARAMOUNT +.
Best 2 digital viral minutes: Lionel Messi.
Best Digital Content for Platform: Big Brother
Best native digital program: Lxs Mentirosxs – UNTREF.
Best digital version general interest program: Rock riders – CANAL 22.
Best corporate digital campaign: Banco Macro.
Best general interest program: Sergio Solón – Newscast (Open Connection)
Best Social Interest Program: Mauro Falcone and Christian Baglietto.
Journalistic program: Before anyone else – Diego Leuco (LUZU).
Native digital radio production: Luzu.
Best digital native sports journalist: Flavio Azzaro – YouTube.
Best show program: Aló Pachano – Aníbal.
Best female radio host: Naty Jota – Nobody says anything (Luzu).
Best male radio host: Nico Occhiato – Luzu.
Best digital native radio programming: Luzu.
Best entertainment program on native digital radio: Red Flag – Grego Rosaello (Luzu).
Best presenter: Héctor Rossi – Bebana Radio.
Best native digital radio announcer: Marcela Feudale – Radio AMEP.
Best musical program: Top 5 Latin America – Radio Tú.
Best health program on native digital radio: Estrategia salud – Elisa Soto and Gabriela Ensinik (Zónica Radio
Best one-person informative content: Facundo Pedrini.
Best informative content: El mar del plata.
Best journalistic production: Rosario nuestro.
Journalistic innovation: Elbonaerense.
YouTube platform – Medical and scientific dissemination: Dr. Fernando Felice.
Best advertisement by agency: Advertiser: FLOW. Piece: The fire of passion. Agency: DON
Best thematic content for platforms: What will it be like? – My phone – Phone.
The national news agency Télam won the Martín Fierro award for Native Digital Communication in the category of Best International Digital Transcendence.
Source: Ambito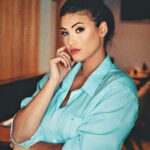 I am an author and journalist who has worked in the entertainment industry for over a decade. I currently work as a news editor at a major news website, and my focus is on covering the latest trends in entertainment. I also write occasional pieces for other outlets, and have authored two books about the entertainment industry.