From the point of view of the team Research, They see that prices can at least stay at these levels, supported, as we mentioned, by the recession and the probability of finding ourselves in a point near the peak of the Federal Reserve interest rate, a weaker dollar outlook and a slowing inflation path. All these factors can constitute a floor for the price of gold.
What can you expect for the price?
Much of the 2023 outlook for world markets will depend on the path of monetary policy, and on central banks beginning to ease interest rate hikes begun last year.
However, they stress that the rate cuts for 2023 will depend to a large extent on the pace of inflation, since if it does not continue to converge to the target levels, it will be difficult to imagine a year of less aggressive monetary policies. Therefore, In order to see a positive impact on gold prices, we will need, as a sine qua non, a shift to a more dovish monetary policy by central banks.
On the other hand, it is interesting to see the dynamics that gold registered during the corrections experienced by the market both in 2001 and in 2008. In 2001 gold reached minimums of US$256, showing a year later, in April 2002, an increase of almost 20%, reaching a value of more than US$300.
While, Between November 2008 (when the metal reached a floor at US$708) and February 2009, gold registered an increase in its value of more than 40%, reaching intraday levels of US$1,000.
It is necessary to clarify that, beyond the statistical data of the dynamics that gold took during the two most recent market falls, we once again emphasize that for a stage of sustained rise to be repeated again, the previously mentioned conditions must be met. Monetary policy should begin to be moderate, which will generate a weakening of the dollar.
What investment alternatives exist?
For people with an investment account in the United States, the easiest and most direct way is to do it through the GLD ETFs (SPDR Gold Shares), which is the largest gold exchange-traded fund in the world, with US$54 billion of assets under management. One of the main characteristics and differences that this ETF has in relation to other commodity funds is that the GLD has gold bars stored in vaults as its underlying asset, and not gold futures.
Let us remember that the Equity Trade Funds (ETF, for its acronym in English) are investment funds that have the particularity of being listed on the stock market. Its operation is the same as that of shares, that is, they can be bought and sold throughout a wheel at the existing price at any given time.
Another alternative to position yourself in gold is to invest in mining companies. Among the prominent ones are Barrick Gold (GOLD), Harmony Gold Mining Company (HMY) Y Yamana Gold (AUY). All three can be operated in the US market, as well as in the local market through the respective CEDEARs.
for his partJuan Manuel FrancoChief Economist of SBS Group consulted by Ambit: "Both gold and other commodities are usually assets in demand both in contexts where uncertainty increases and in times of high inflation. For this reason, We believe that investments in gold or associated shares are appropriate for profiles that are betting that inflation will remain high or that uncertainty could increase in the coming months. A vehicle that can be used from Argentina is the CEDEAR of associated companies, such as Barrick Gold (GOLD) or Yamana Gold (AUY)"
"Our position regarding gold is that gold whenever interest rates rise in the US by the Federal Reserve is a negative driver against gold but now we can reach the end of the rate hike cycle, this in March and April. If the market begins to see this based on American inflation and what the Fed says, gold could be an asset that could have a promising return. In any case, gold can be a hedge in any investment portfolio, not have more than 5% and 10% in the total portfolio", concluded Diego Martínez Burzaco, Head of Research at Inviu.
Source: Ambito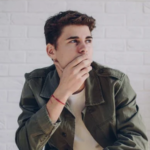 I am a 24-year-old writer and journalist who has been working in the news industry for the past two years. I write primarily about market news, so if you're looking for insights into what's going on in the stock market or economic indicators, you've come to the right place. I also dabble in writing articles on lifestyle trends and pop culture news.