The corona restrictions at the borders have been lifted for a few weeks, which has led many Russians to travel to neighboring Finland. There is then lively shopping. This is a thorn in the side of the government in Helsinki and some Finns.
The one in south-east Finland, not far from the town of Lappeenranta. For years this was the most used border crossing between Russia and the Scandinavian state. Because of the corona pandemic, border traffic was restricted in 2020, and passenger traffic was even completely closed at the beginning of 2021.
; Proof of vaccination no longer has to be shown. A rule change that primarily affects travelers outside the Schengen area – and thus also Russia, with which Finland shares a border of around 1400 kilometers. Russia itself also has its corona restrictions at the borders.
And people in Russia are making use of these relaxations because, despite sanctions, if they have the necessary documents, they can enter Finland by car or bus.
Russians buy cheese, cola and coffee in Finland

On a weekend in mid-July, between 7,000 and 8,000 people crossed the border from Russia to Finland. Around 80 percent of them were Russian citizens, as reported by Finnish radio.
Most would have used their trip to Finland to visit their properties or for wellness. Coaches are again driving from St. Petersburg across the border. Another large part use the trip to Finland for shopping.
In Lappeenranta in particular, Russians go on shopping sprees, as the Finnish newspaper reports. Cheese, coffee, sweets, fish and Coca-Cola would often end up in the shopping cart.
But not everyone likes Russian shopping tourism. "We can't know who are really tourists and who are Putin's henchmen. I think we should close the border or at least restrict the issuing of visas," a woman told the newspaper. On the other hand, a man says, "Ordinary people should not be punished."
Most Finns want to stop issuing visas to Russians

More than half of people in Finland think the country should stop issuing visas to Russian tourists, according to a new Yle poll conducted by polling firm Taloustutkimus.
A local told the : "It's not right that Russians can travel freely to Finland. That undermines the sanctions." However, Russian tourists are a source of income for border towns. According to AFP, many shopkeepers in Lappeenranta are worried about what will happen if the flow of visitors from Russia dies down again.
"It's the most absurd idea. What do you get from isolating ordinary Russian citizens?" Mohamad Darwich, boss of the Laplandia Market supermarket, just minutes from the Russian border, asked AFP.
Nevertheless, politicians in Finland want to limit Russian shopping tourists and holidaymakers.
According to shops, the foreign ministry in Helsinki has advised against selling Russians any luxury goods. Many companies have already done so.
Customs find illegal goods during inspections

This applies in particular to the sale of tax-free goods, since the intended use can be more easily understood. Before a purchase is made, the retailer must see the customer's passport.
EU sanctions against Russia already prohibit the export of so-called luxury goods or goods worth more than 300 euros to Russia, reports Yle. However, exports of electrical appliances or smartphones up to 750 euros or even cars up to 50,000 euros are excluded.
According to the State Department, a store must refuse to sell a product if it is clear that the customer intends to export the sanctioned product to Russia.
Despite the ban, there were attempts to get such goods to Russia. As reported, 2,500 Finnish customs checks between July 22 and 26 found one hundred goods that fell under the sanctions list. According to one, however, goods that could strengthen Moscow's "industrial and military capabilities", including drones, were also discovered during customs inspections.
Government in Helsinki is working on visa restrictions

The government and parties in Helsinki now want to put a stop to Russian shopping – or rather, push up a barrier. The largest factions in the Finnish parliament want to make it more difficult to issue tourist visas to Russians, writes the Finnish newspaper . One idea is to make the visa issue similar to the former Corona requirements. Finland's President Niinistö wants to discuss the issue with the government. He had already spoken to the foreign minister about this.
Foreign Minister Pekka Haavisto said loudly that a solution to the visa issue should be found in August. Foreign Ministry employees interrupted their summer vacation and worked intensively on alternatives, Haavisto said, according to the newspaper.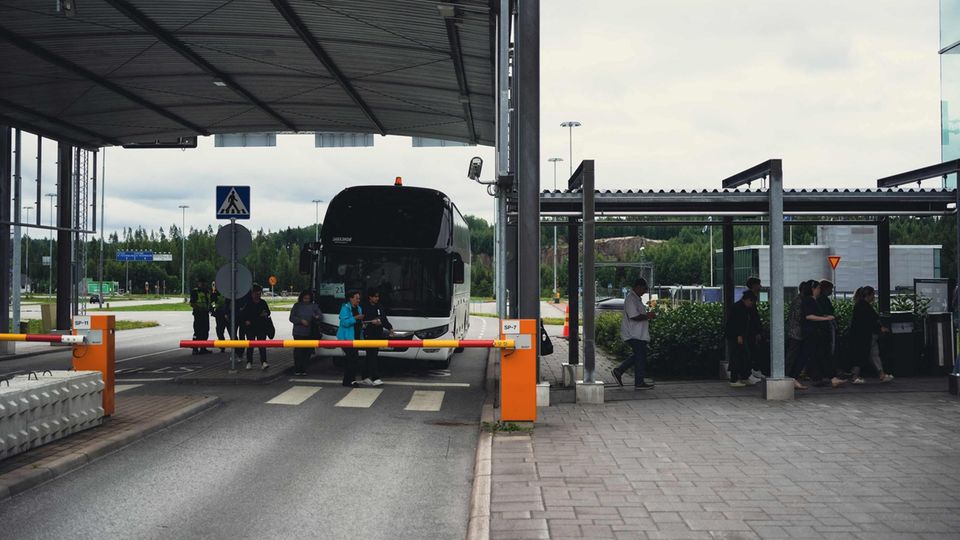 The foreign minister told the Finnish TV channel on Thursday that he had presented the government with a model that would limit the number of Russian tourist visa applications. According to Haavisto, his proposal has the support of the rest of the government, according to MTV. However, the Foreign Minister emphasized that the new Finnish regulations would have to be coordinated with the other Schengen countries. They also want to coordinate with the EU foreign ministers.
Several states, such as the Baltic countries and Poland, no longer issue or accept tourist visas from Russia.
Kremlin threatens consequences

Finland, with its still open visa policy for Russian citizens, represents a last route into the EU. Flights between Russia and the EU are hardly possible due to sanctions. A Schengen visa theoretically makes it possible to travel throughout, which is also where most EU countries are located.
According to one, many young Russians are looking for rides to Finland via the messenger service Telegram, many of them to Vantaa Airport near Helsinki. A trip from St. Petersburg to Helsinki costs around 250 euros.
Russia has already threatened Finland if it decides to stop issuing tourist visas to Russians. According to Kremlin spokesman Dmitry Peskov, Russia will react "very negatively". "Any such action against Russian citizens would require countermeasures and a response — that should be understandable and to be expected," Peskov said.
Finns also go to Russia – presumably because of cheap petrol

However, it is not only people from Russia who travel to Finland to shop there. Finnish citizens also cross the border into Russia, albeit to a lesser extent, reported shortly after the opening of the Russian border. There were "a few dozen" on the Russian side, border guard Juhani Saari from the Vaalimaa border crossing told MTV.
He suggested that one of the reasons might be Russia's cheaper fuel. "Some of the trips are believed to be related to refueling and searching for fuel."
Sources: Yle, AFP, MTV, "Helsingin Sanomat", "Ilta-Sanomat"
Source: Stern