Donald Trump wants to go back to the White House. What the ex-president himself sold as a "very big announcement" was not even worth a live broadcast for many broadcasters – for good reason.
Donald Trump announced his candidacy for the 2024 presidential election at his home in Mar-a-Lago, Florida. But what the former incumbent had touted a week ago as a "very big announcement" received only moderate interest from the US media. The country's three major television stations even completely refrained from broadcasting his performance live.
The TV broadcaster ABC gave its audience another episode of the reality show "Bachelor in Paradise" instead of the hour-long Trump speech. NBC showed its viewers the seventh episode of the second season of the science fiction drama "La Brea". And CBS broadcast an episode of its fictional series, which has been running since 2018, about a New York branch of the US federal police FBI.
Of the major cable channels, MSNBC also decided against reporting live from Mar-a-Lago and, as always, broadcast the political show "Alex Wagner Tonight" from Tuesday to Friday. CNN showed almost 25 minutes of the Trump speech in Palm Beach and then switched to the studio, where a group of political experts analyzed the speech and journalist Daniel Dale, known as Trump Checker, checked it for its truthfulness. However, even before Trump took the stage, CNN had prepared interviews for the upcoming event and shown footage of the Mar-a-Lago ballroom, which was filled with guests in front of the empty lectern.
Fox News shows Donald Trump live

The situation was different on Fox News: moderator Sean Hannity dedicated about 40 minutes of his show "Hannity" to a live broadcast on Trump, whom he has served as a propaganda mouthpiece, campaign helper and advisor for years. When the ex-president began taunting former Chancellor Angela Merkel about Germany's dependence on Russian gas, Hannity chimed in and let Trump allies Mike Huckabee and Pete Hegseth have their say. Huckabee explained that the 76-year-old is "unbeatable" if he sticks to it like he did in the speech, and Hegseth gushed, "Nothing beats the original." Fox News later switched back to Florida and showed another part of the performance.
Fox's decision to broadcast at least most of the Mar-a-Lago production is quite remarkable. Trump's longtime home and court channel is part of the News Corp newspaper and broadcasting empire. of billionaire Rupert Murdoch, and that had only just pushed his former railcar to the siding: "The biggest winner of the Midterms was without a doubt Governor DeSantis, whose landslide victory in the state of Florida was breathtaking. The biggest loser? Donald Trump," Fox News Columnist Liz Peek commented on the Republicans' midterm election defeat and Ron DeSantis' concurrent triumph in Florida's gubernatorial election last week. "Let's hope the millions of Americans who supported Trump in 2016 and 2020 will realize his time is up," Peek said. "If you like his politics, you have to be loyal to Ron DeSantis, who has never lost an election campaign and who emerged as a big winner from this midterm election."
US midterm elections
His endorsement isn't a guarantee of victory: Here's how Donald Trump's candidates fared
The New York Post – also part of News Corp. — had even mocked Trump as a caricature of a boy from a nursery rhyme on her front page on Thursday and also on the front page hailed DeSantis as "DeFUTURE" the day before. And the editors of the "Wall Street Journal" called the ex-president the "biggest loser of the Republican Party".
The day after Trump's announcement, the "New York Post" made it clear that it, at least, would not continue to support the ex-president. On the contrary: the front page of the tabloid newspaper addressed gang crime in New York in large letters and with a photo of a bloody children's shirt. And at the foot of the page, with regard to Trump's renewed candidacy, there was only the mockingly profane line: "Man in Florida makes announcement, page 26".
Transmitters after 2016 under special observation

It is not yet clear how the Murdoch media, especially Fox News, will deal with Trump in the future – especially if DeSantis actually positions himself as an internal party opponent. What is clear, however, is that all broadcasters will be under particular observation and great pressure over the next two years, especially if there is a large field of candidates in the Republican primary. CNN was repeatedly criticized in 2016 because Trump's rallies got significantly more airtime than those of other candidates. NBC even invited Trump to host "Saturday Night Live" in November 2015 and, after violent protests, was forced to give other Republican candidates the same airtime. And then-CBS boss Les Moonves had said at the time that Trump's campaign "may not be good for America, but it's damn good for CBS."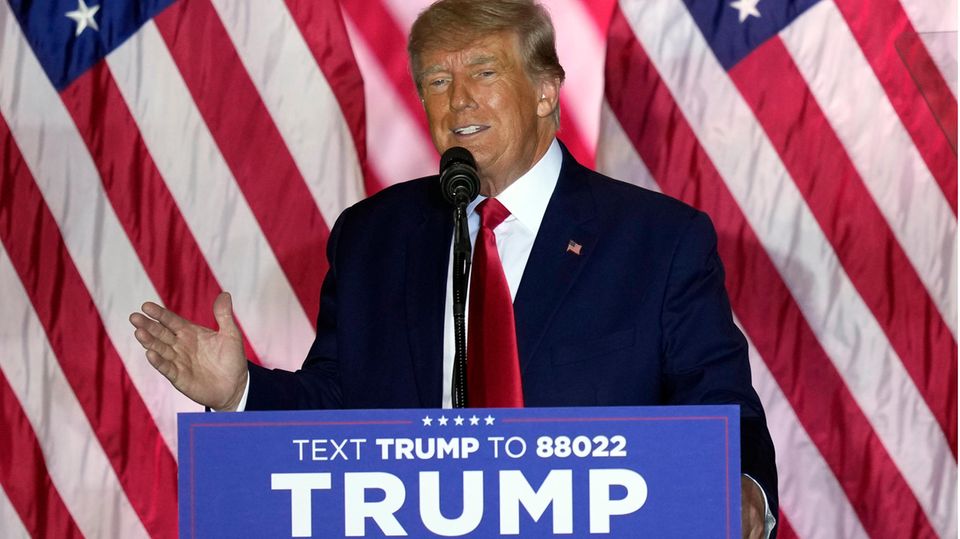 CNN has already indicated that the network will take a different approach this time, judging events more on newsworthiness than Trump hype. According to the Washington Post, the network's new boss, Chris Licht, told staff on Tuesday that decisions about reporting on Trump as a presidential candidate would be made on a case-by-case basis.
Note: This article was updated following the publication of Wednesday's New York Post front page
Sources: , , ,
Source: Stern