North Korea's ruler Kim Jong Un appears hand in hand with his daughter, the first time she has appeared. Why now – and why like this?
North Korea keeps shooting. The self-declared nuclear power fired a "new type" of intercontinental ballistic missile (ICBM) on Friday. According to Pyongyang's usual shrill propaganda, the largely isolated country believes it has the "world's strongest strategic weapon" and another means of "total confrontation with unrestricted confrontation" to be able to answer.
The test, , was overseen by ruler Kim Jong Un and was successful. The armed forces now have another means at hand to "deter any nuclear threat," Kim was quoted as saying.
Given the non-stop provocations and sustained barrage, the real surprise was the presence of Kim's daughter, who has never been seen in public before. The North Korean side had not even confirmed their existence.
The state news agency KCNA published a bizarre series of pictures on Saturday that are said to show the dictator "along with his beloved daughter and wife" as part of the missile test.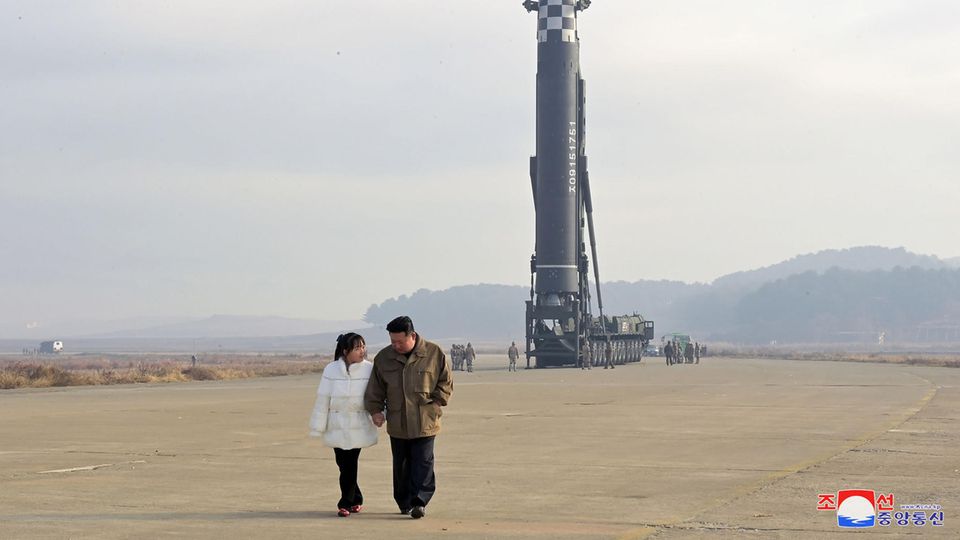 The youthful-looking girl wore a white winter jacket and red shoes in the photos, a photo shows her and her father hand in hand in front of the vehicle with the launcher from which the "monster rocket" – as the cruise missile was called in the South Korean media – are shot down should.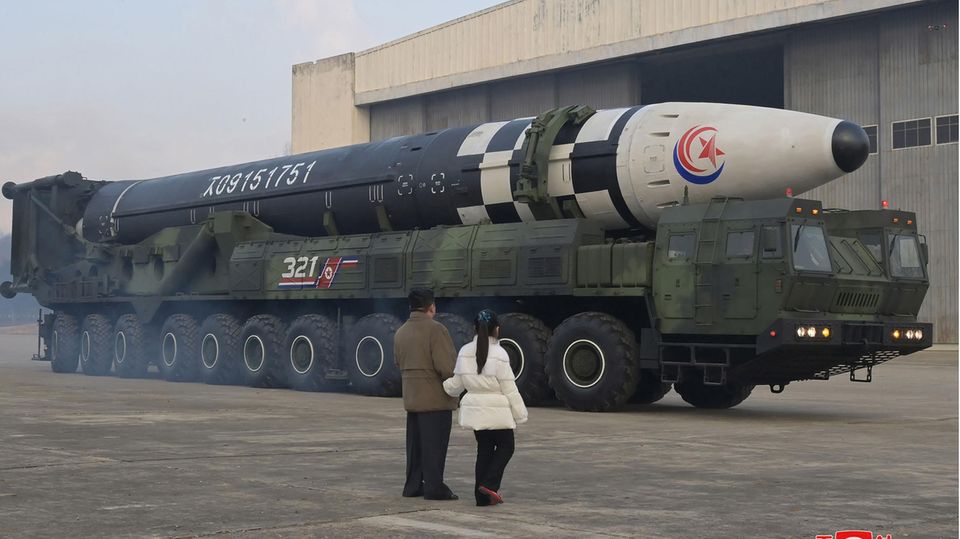 State propaganda failed to provide any information about the girl's age or name. The country is largely sealed off from the outside world, so information about North Korea's ruling family is sparse. However, South Korea's intelligence services assume that Kim and his wife Ri Sol Ju have three children: a son, a daughter and another child whose gender is unknown.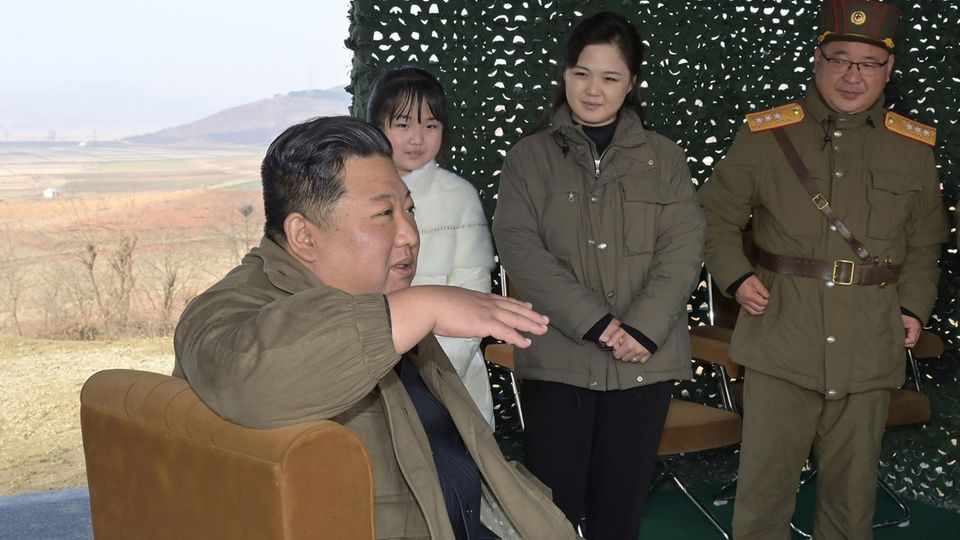 Even within North Korea, little is known about the Kim dynasty. In November 2012, Kim Jong Uns , possibly with the daughter now presented, but no official information about the girl was known beyond that.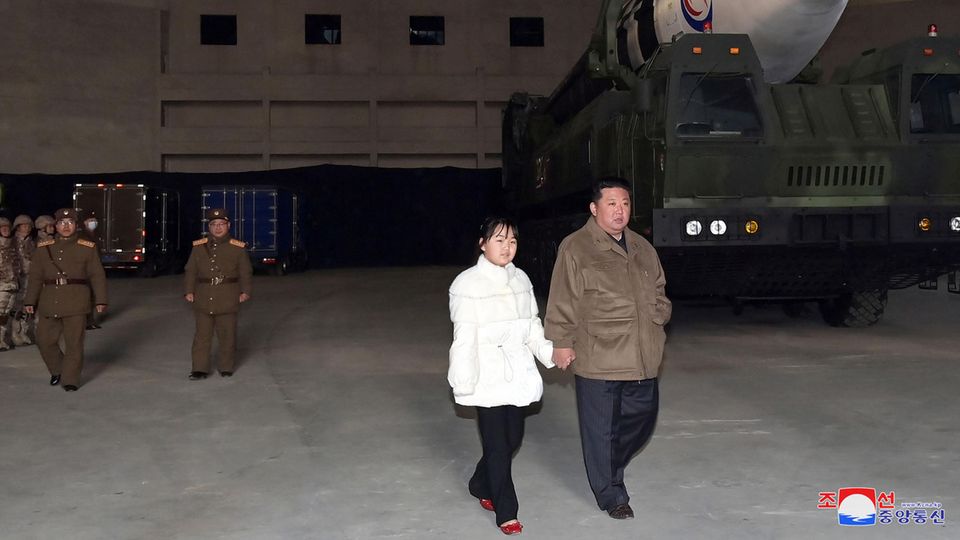 In 2013, former US basketball star Dennis Rodman said he held his daughter — then a baby — while visiting Pyongyang. At the time, he said in an interview with British that her name was Ju-ae.
According to observers, the fact that Kim now presented his daughter to the world public as part of an arms show, and ultimately also to the North Korean people, could therefore be a message both internally and externally that he regards the expansion of the nuclear program as a task for generations – and as a legacy from Ju- ae should be held responsible.
North Korea's rulers and their "legacy"

"This is the first public occasion where we have seen Kim Jong Un's daughter," quoted North Korea expert Michael Madden from the US think tank Stimson Center. "It is of great importance and shows a certain level of self-confidence on the part of Kim Jong Un that he is bringing her out in this way."
Jenny Town by 38 North, a research institution in Washington that deals with North Korea, reads from the setting and the published images a kind of long-term handover. It looks like Kim wants to "pass on a legacy," she told the news agency. "These optics give the feeling that they (the daughter) is now also part of the legacy."
Antik Panda, a nuclear expert at the US think tank, concludes that North Korea will keep its nuclear forces "for the long term". Carnegie Endowment for International Peace, from the pictures. She sees Kim's decision to present his daughter at the rocket launch as a possible indication that the dictator sees his nuclear program as a multi-generational effort, she told the .
Kim's came in 2010, shortly after he was named to succeed his father, Kim Jong Il, who passed away the following year. The , showed Kim with his father and a number of senior party officials.
According to observers, the photos were also intended to demonstrate his family ties. However, nothing is known about internal discussions in the isolated country about a possible successor to Kim. South Korea's intelligence agency said last year that Kim's younger and more influential sister, Kim Yo Jong, now appears to be the "number two de facto leader."
Kim, who is 38 years old according to South Korea, . The Kim dynasty has ruled the impoverished but well-armed state for more than 70 years.
Sources: , , , , , , with material from the DPA news agency
Source: Stern