Diego Kolankowski: We focus on family history. Beetlejuice is the narrator, but here we focus on that love of the girl for her dead mother and her father for her family. We all remember the funny and comical story but in theater we add emotion. The girl cannot name her mother, she calls her "Dead mom", and it shows how a broken family can reconnect and heal.
Q.: How did the project to adapt Beetlejuice come about?
D.K.: The first phone call with this idea was in 2010 and since then it began to take shape. It premiered in 2019, was nominated for many Tonys, closed for almost two years due to the pandemic and returned with more force. He won Tonys again and is now touring the US with 275 shows. The songs have been seen by more than a million people and streamed online more than 3 billion times.
Q.: What determines success today, the show in the theater or the networks?
DK: The first thing is the billboard and then it went to Tik Tok, it was in the top three for a year. They were videos made by guys singing the songs, with effects, and that kept us very high. Unlike other musicals, this one has fans like a concert, here the public was characterized by the characters. Of 1,600 seats, 500 were occupied with people with makeup, for example Miss Argentina, who is a character in the play, is the queen of hell. It looked like a recital or a very Comic Con line, with a celebration and the audience singing standing up. There is also black humor, lots of laughter.
Q.: There is a tendency to present works that were successful in the past, whether in theater or cinema, before an original story. Why?
DK: Both paths are valid, there are successes that were born from an original idea and others that are adaptations. The latter arise from the urgency of installing a title, which seems easier if it is recognized. But it's always a new creation because Beetlejuice had no songs. In terms of marketing, it is better if there is an anchor to a recognized brand, so the challenge lies in not losing that audience that knows the original and adding another. Many times the adaptations are not liked, it happened with "Almost Famous" on Broadway, with "Pretty Woman", with "Papá por siempre", movie hits that didn't work in theater. They did not survive more than four months. There is no single path but if you have a good brand there is a smooth mileage.
Q.: In Buenos Aires we see a tendency to revive hits from the past such as "Art", "Casados ​​con hijos".
DK: It is a worldwide trend and has to do with emotional memory. Something that was good in the past is tempting for the producers, knowing that the audience remembers it and the generations change. Happening all the time, "Into the Woods" is back for the 15th time, "Funny girl" is revived with Lea Michele, "Music men" with Hugh Jackman is a 70-year-old musical that seems like the world needs to be revived, "Dracula" is another example. Societies need to see each other again where they felt happy.
Q.: How do you see musicals and theater in Argentina?
DK: There will be a wave of musicals and I am glad that the producers are encouraged to develop more ambitious projects, I hope the public will follow. There is a school, there is development, there is a niche for it to work but for it to persist on the bill and be mainstream it requires an audience, investment and production. Unlike a play, a musical cannot be made without a large investment.
Q.: How much does it cost to make a musical on Broadway?
DK: Mine cost 22 million dollars, 17 when it launched pre-pandemic and 5 to replace it after. In Argentina with that money you buy a TV channel. We did "American idiot" with Ariel del Mastro and it went well for us but it was a huge investment that ended up in the Colon, I did it to show how we think musicals are made. Until then musicals were cooperatives, that was a commercial production with gigantic investment and it worked. The same "Peter pan" but it is from time to time. On Broadway there are 41 simultaneous musicals. I am in love with our theater and I defend it but we are immersed in a poor country where the numbers are stratospheric and the differences abysmal. In Argentina, they fight against the Argentine context, and the same happens to soccer, education, highways, all incomparable. There is spectacular talent but adverse economic and commercial conditions. It is enough to compare the theaters in the United States with 1,650 seats and performances 8 times a week against the Corrientes street theaters with 400 seats with performances from Thursday to Sunday. "Matilda" will arrive, a very large project that you have to see how it recovers, it is a very small market with almost zero economic capacity.
Q.: It is your fourth musical on Broadway, what do you plan for this year?
DK: I am closing "Ohio State Murders", I did "American Buffalo" by David Mamet, with Lawrence Fishburne and Sam Rockwell, and although my expertise is in musicals I have done text works and I want to focus on that as well.
Source: Ambito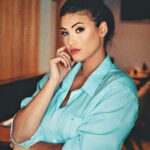 I am an author and journalist who has worked in the entertainment industry for over a decade. I currently work as a news editor at a major news website, and my focus is on covering the latest trends in entertainment. I also write occasional pieces for other outlets, and have authored two books about the entertainment industry.