A bricklayer, father of a family, with a few loose cables in matters of morality and religion, goes out at night on his motorbike and sometimes, when he sees a woman who might be a prostitute, he kills her. It's an obsession. He thinks that the city, society itself, is dirty and that he helps to clean it up. What "Holy Spider" tells, happens in Mashhad, Iran, near the border with Afghanistan. And what counts really happened. Over the course of eleven months, Saeed Hanaei sheltered sixteen women. Some were prostitutes. Others don't. In August 2001, the Police identified him and the Justice ordered him hanged. And although he may seem like a lie, many people came out to defend him.
On this case, the Iranian-Canadian Maziar Bahari, creator of the IranWire site, made a documentary in 2002, "And Along Came A Spider", and in 2020 Ebrahim Irajzad made "Killer Spider", an entirely Iranian production, where a prejudiced, intolerant education. The murderer's mother is the first to fill his head. Now we see "Holy Spider", such is its original title, a Danish, German, French and Swedish co-production filmed in Jordan by Ali Abbasi, an Iranian who at the age of 20 graduated from the Tehran Polytechnic, went to study at the Royal Swedish Academy of Sciences, and stayed in Scandinavia. "Holy Spider" is disturbing, good and even very good for those who want to shudder with the death scenes, which make those poor women feel the panic at the crucial moment. Something else: the main character is a female journalist who, wanting to investigate the crimes, collides with policemen and other men who perhaps deep down sympathize with the murderer. This sounds like a cliché, but it works. It stars Zar (née Zahra) Amir Ebrahimi, who was once an actress in Iranian soap operas, until an intimate video was discovered of her and she managed to escape to France one day before being sentenced to 10 years in jail and 99 lashes.
Source: Ambito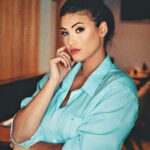 I am an author and journalist who has worked in the entertainment industry for over a decade. I currently work as a news editor at a major news website, and my focus is on covering the latest trends in entertainment. I also write occasional pieces for other outlets, and have authored two books about the entertainment industry.