Soon there will be a new ruler in the RTL jungle – but before that there will be another sieve. Gigi discovers the philosopher in himself – and Djamila the thought of whether another job would not have been better.
From the catwalk to the campfire and back: Model Papis Loveday has to bury his ambitions for the title of RTL Jungle King. The 46-year-old, who even his competitors had seen as a hot contender for the jungle throne, was kicked out of the reality show "I'm a Celebrity – Get Me Out of Here!" on Friday night after receiving too few viewer votes. He himself wore it with composure and distributed air kisses.
Daddies popular with fellow combatants
For some fellow campers, however, the shock was deep. Influencer Jolina Mennen even cried bitter tears. A few minutes before she was thrown out, she had declared that she would treat Loveday to the jungle crown that the celebrities compete for on the outdoor show. "I would be very honored to be a princess in his kingdom," the influencer said. Reality lady Djamila Rowe had also taken his side: "Papis is really someone where I would say: Yes, I really wish that." Before long, all those good wishes had gone up in smoke like a log in a camp fire.
Loveday had actually done well on the show. In his last test he confidently got stars, in the camp his orderly hand sometimes prevented worse escalations. However, he recently clashed with singer Lucas Cordalis himself.
He is not the first model who has to leave the show – Tessa Bergmeier, among others, had already caught it before him. Before the jungle camp, he had told RTL that he now wanted to start in Germany. The 46-year-old was born in Senegal.
Djamila would like to finish at 4 p.m
However, the dynamics in the camp were determined by others in Friday's broadcast. First and foremost, Djamila Rowe allowed insights into her inner life. "Oh man, sometimes I wonder why I'm still doing all this to myself at my age," she confessed. "Why don't I have a job somewhere? 4 p.m., over. Go home, have my peace." However, a certain dialectic could be seen, because a little later Rowe said that she had now come to terms with her situation. "Maybe one day I won't want to go home anymore. I want to stay here then," she said.
But Rowe also spoke about her son, the image he has of her and that she would like to see him more often. And about the fact that she would actually have liked to study. "I would have loved to be a lawyer," Rowe said.
Meanwhile, reality actor Gigi Birofio revealed his philosophical side, which came as a bit of a surprise. What was more to be expected, however, was that his thoughts revolved around women. "You have to say: women make the world beautiful," said the 23-year-old. In this context, he also had a piece of wisdom for fellow camper Jolina. "I'll build you a house," said Birofio, "but you make me a home." Emotion spread.
Lucas wants to calm things down
The third main protagonist of the day: singer Lucas Cordalis, who amused the moderator duo Sonja Zietlow and Jan Köppen when he expressed the assumption that his father-in-law, who was waiting in the hotel, "trained a lot" there. He was also trying to calm things down and rebuild his self-image after a horrific excess crash the previous day. "I'm a very charming person, I'm a gentleman, I'm a person who likes to lift others up," he explained. It's not necessarily very easy to "be Lucas Cordalis," Cordalis said.
This time Jolina Mennen and singer Cosimo Citiolo, who screamed hysterically as usual and at times wore a stray water dragon on his head, had to go into the jungle test. When he noticed animals around him, Citiolo also expressed a terrible suspicion towards RTL: "Are you kidding me? You did it on purpose!" The duo had been placed in water tanks for the test. In the end it was enough for three out of six stars.
The final is on Sunday. Mennen, Citiolo, Cordalis, Birofio and Rowe are still in the running.
Source: Stern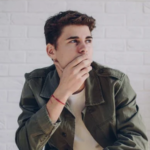 I am a 24-year-old writer and journalist who has been working in the news industry for the past two years. I write primarily about market news, so if you're looking for insights into what's going on in the stock market or economic indicators, you've come to the right place. I also dabble in writing articles on lifestyle trends and pop culture news.