Andrea Sawatzki is one of the stars who has managed a cult second career after the TV Olympus. Now she is celebrating her 60th birthday.
Actress Andrea Sawatzki was born on February 23, 1963 in the southern Bavarian municipality of Schlehdorf in the district of Bad Tölz-Wolfratshausen as the daughter of a nurse and a journalist. The all-rounder with the striking red hair grew up in Baden-Württemberg and now lives with her husband, actor Christian Berkel (65), in Berlin-Schlachtensee. There she enjoys her "garden. Or I go to the forest with the dogs", as she said in an interview with spot on news on the occasion of the last "Bundschuh" film (2022).
Their own family also includes their two sons (born in 1999 and 2002). "Our boys have already moved out," she continued, but also added: "I've always been very there for my boys." Sawatzki is also no effort too much for her marriage, as the artist said in another interview in 2021. "We promised ourselves at our wedding that we would have a huge party every ten years. There were 150 friends at our wedding and we planned to invite all 150 friends every ten years. Because of Corona, the planning was delayed. But we we can also celebrate the eleventh year…"
The dear "Family Bundschuh"

Sawatzki is also very successful professionally with a family. The eighth film in the popular TV series "Family Bundschuh" – working title "Bundschuh gegen Bundschuh" – is in the can and is scheduled to be broadcast this year. The cult comedy series started with the film "Take a deep breath, the family is coming", which aired just before Christmas 2015. The screenplay was based on the novel of the same name by – in this case – author Andrea Sawatzki, which was published in 2013 by Piper Verlag. Several reruns are currently running to celebrate her 60th birthday.
And it will continue with the stories about Gundula and Gerald Bundschuh – embodied in the film by Axel Milberg (66, Borowski "Tatort") – and their terribly nice family. "I will probably have to write another novel, my readers insist on it and I am happy to accept this demand," she said to the delight of fans and critics.
From Sunday crime star to hit family comedy

Andrea Sawatzki is one of the stars of television and film, who, like Sebastian Bezzel (51, Eberhofer crime novels, formerly Bodensee "Tatort"), have managed a cult second career after the TV Olympus Sunday crime novels. Because before "Bundschuh" she was a fixture in the "crime scene" cosmos and she also had a recurring role in "Polizeiruf 110".
From 2002 to 2010, she and her fellow actor Jörg Schüttauf (61) worked as chief inspector Charlotte Sänger as inspector Fritz Dellwo. In a total of 18 cases, the two hunted murderers in and around Frankfurt am Main. In 2005, there was the Adolf Grimme Prize for "Tatort: ​​Heart Failure" and the Hessian Television Prize for "Tatort: ​​The Last Race" in 2006. From 1995 to 2004 she also played the character Gabi Bauer from the homicide squad in the WDR "Polizeiruf 110" in the fictional town of Volpe, who has a relationship with the patrol officer Sigi Möller (Martin Lindow, born 1965) in the Bergisches Land.
With the two "… for Beginners" films, a next series is indicated, at least according to the title. The special thing about it: For the first two strips, which are also worth seeing, "Divorce for Beginners" (2019) and "Sportabzeichen für Beginners" (2021), Sawatzki and husband Berkel stood together in front of the camera.
Source: Stern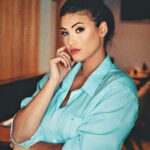 I am an author and journalist who has worked in the entertainment industry for over a decade. I currently work as a news editor at a major news website, and my focus is on covering the latest trends in entertainment. I also write occasional pieces for other outlets, and have authored two books about the entertainment industry.