Natalia Yegorova, the ex-wife of former boxer and current mayor of Kiev Vitali Klitschko, tries to break free in the current season of "Let's Dance". In a backstage interview, she admits how difficult it was to be married to Vitali.
Since she was in her early 20s, she was the woman at Vitali Klitschko's side and went through all the ups and downs of life with the boxer. In an interview with the dance show "Let's Dance", Natalia Yegorova openly tells how she is after the breakup and what has changed for her.
"For 25 years I was a different person under a different name", Natalia Yegorova classifies her past. Her separation from the Ukrainian boxer and politician is now a good year ago. A year that Yegorova used to find herself and new ones Making plans like attending the dance show.
During dance training, Natalia is not only physically close to her trainer and professional dancer Andrzej Cibis, he also feels how Natalia is currently looking and says: "I wish for Natalia that she learns to relinquish control all the time with 'Let's Dance' to be able to without losing yourself (…) and really letting yourself go." But it is precisely this feeling that Natalia Yegrova has apparently long since become alien to.
Natalia Yegrova has always been the strong woman next to a strong man

Tears run down her face when the 48-year-old admits that the role at Klitschko's side was not always easy: "It's damn difficult to be a woman from a successful man. I have to be strong. Weakness was in not allowed in our family."
An inner attitude that is of course necessary in professional sports and where you have to concentrate on success and victories, but seems to be more of a hindrance in private life. Yegorova herself says: "To be so perfect for such a strong man, maybe that's what sits so deep in me".
Showing weakness is one of the things Natalia Yegrova wants to learn again in her new life. For a few months she has taken her birth name again and has the goal of "Let's Dance" to dance free for a whole new chapter in her life.
Source:
Source: Stern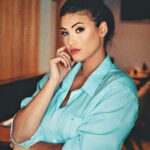 I am an author and journalist who has worked in the entertainment industry for over a decade. I currently work as a news editor at a major news website, and my focus is on covering the latest trends in entertainment. I also write occasional pieces for other outlets, and have authored two books about the entertainment industry.