The singer Pink is loud and clear, for some this is too much. Apparently the chemistry between her and her colleague Christina Aguilera was not right on the set of "Lady Marmalade".
Almost everyone knows the song "Lady Marmalade" from 2001. In an absolute star cast, Pink, Christina Aguilera, Lil Kim and Mya performed a catchy tune that is still being played in clubs more than 20 years later. But not only the song was remembered, Pink also remembers a big argument with her colleague Christina Aguilera.
A few weeks ago, the singer Pink released her ninth studio album "Trustfall". She's currently popping up on talk shows here and there for promotional purposes. This is also the case with the format "Who's Talking to Chris Wallace?" in which Pink shared an anecdote from filming the star-studded song that explains why she and singer Christina Aguilera didn't become friends.
The moderator Wallace opens the conversation on this piquant topic with the words: "I read that Christina wanted to fight with you about who should sing which part in the song?". Pink nods and affirms the statement. "Our personalities don't really match, you don't have to like everyone and that's ok. We're over it."
Pink thinks people have a problem with their honesty

Pink says of her own character: "I think the problem people have with me is: you ask me something and I'll answer it honestly. (…) For me that's honesty. Now I know better that complete Honesty just doesn't work in this world. People only want to hear good things and they want to be cleaned up. But that's just not my style."
The moderator follows again to what extent Christina Aguilera was looking for a dispute with the singer at the time. Pink explains that it all started with her sitting in Aguilera's chair. Aguilera reportedly considered canceling the entire shoot, although Pink apparently didn't even know it was her chair. Pink also says that while it wasn't physical at the time, she made it clear to her that she couldn't speak to her in an aggressive tone.
But Pink doesn't think it's wrong to revisit the old story from 2001. She says all she does is tell a story of how it happened and how she remembers it. If this truth makes someone look bad, then so be it, in their opinion.
source:
Source: Stern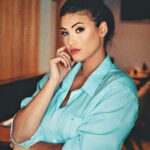 I am an author and journalist who has worked in the entertainment industry for over a decade. I currently work as a news editor at a major news website, and my focus is on covering the latest trends in entertainment. I also write occasional pieces for other outlets, and have authored two books about the entertainment industry.