Winter hats are currently one of the most sought-after items of clothing. Because "topless" is usually not a good idea in winter. Beanie, beret or poodle? Which hat would you like? Five trends and classics for big and small heads.
Nothing can disfigure a beautiful person, as the saying goes. Not even a hat. The rumor persists that there are faces with hats and those who somehow always look strange with a hat. The author of this text considers hats to be more of a practical piece of clothing that protects his ears and forehead from freezing in wind and weather. The fashion aspect is not his thing. But that may also be due to the fact that it is more the women who use hats at least equally as a fashion accessory. Whether function or fashion statement: In the cold season it is better not to go out the door without a hat. In the following article you can read what is trendy in winter 2023 and which classics are always popular.
1. Beanie – the classic for all occasions

The bobble hat without a bobble is the evergreen among winter hats. If nothing suits you, grab a beanie. And they are available in all colours, shapes and materials. They are usually made of cotton, occasionally made of soft fleece or wool. Some you turn inside out casually, the tight-fitting ones you simply pull over your head. By the way, the British call the human head a beanie. Hence the name of this globally popular hat. In addition to the tight-fitting models, oversize variants like this one are likely to be seen again this winter to be in trend. With a bright yellow (here that ) or in you can't go wrong in winter 2023 either. The Kinabalus by Barts in hipster ripped embroidery and dozens of colors are also a classic. Here's one .
2. Baker boy hat aka peaked cap

With charming greetings from Europe's fashion capital, Paris, checkered peaked caps are flying over the heads of many women this winter (and occasionally men too). One thing is certain: baker boy hats, especially in bold colors or , are not for wallflowers. Wearing a peaked or newsboy cap will attract attention. Gladly made of wool, felt or cord so that the head stays nice and warm. The price for the statement look: the ears of a baker boy hat are usually a bit too short. Small advantage for women with long hair. If you don't want to decide between checked and plain colors, you can grab a reversible balloon cap. Here's one including in Bordeaux.
3. Bobble Hat

Let's get to the hat classic par excellence. A bobble or bobble hat always works, and not just for children. The number 1 among winter hats is usually knitted and has a soft wool bobble or a fluffy faux fur pompom. Probably the most important advantage of bobble hats is obvious. The wool on the head warms – and also the ears. They are ringed, Norwegian-style, with sequins or other appliqués, casual or with a slim-fit look. Anything that pleases is allowed. And this also applies to bobble hats. In the winter of 2023, bright colors should at least push aside the sadness of gray days. The poodle is alive. And this winter, too, motley is the color of hope.
Tip: With an OTTO voucher you can get your new winter hat a little cheaper. Get the here.
4. Beret (beret)

Probably the most elegant of the winter hats is the beret. And similar to the baker boy hat, the same applies to the beret: style trumps function. The beret does not protect you from gusts of wind and frosty temperatures much more than the fontanelle. But women with this stylish headgear attract a lot of attention. And not just on the Champs-Élysées in Paris. It takes a shovel of self-confidence for this one . The beret was made from 85% wool. The rest is nylon. An "Angel Energy" patch is emblazoned on the front. That should be for a good mood care for. The reason: an embroidered daisy with a smiley face.
5. Aviator Hat

The fashionable counterpart to the women's beret is presumably the aviator or pilot's cap for men. Of course, it is not nearly as elegant as the stylish newsboy cap. And yet the close-fitting lapeers (as they are also called) with the distinctive ear flaps and chin straps are an absolute eye-catcher. Combined with a winter parka or wool coat, the aviator hat is a must-have for fashion-conscious men. It is usually made of leather, corduroy, nylon or knitwear.
They have their roots in aviator hats (like this one ) among the heroes of the air, who at that time still risked their heads and collars without a helmet but instead with the famous pilot's hats. The daring men probably would not have thought that their protective equipment would one day become a fashionable accessory for winter walks.
Source: Stern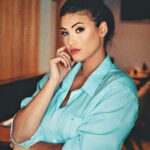 I am an author and journalist who has worked in the entertainment industry for over a decade. I currently work as a news editor at a major news website, and my focus is on covering the latest trends in entertainment. I also write occasional pieces for other outlets, and have authored two books about the entertainment industry.