Thomas Anders turns 60 on March 1st. Five exciting facts about the modern-talking legend.
Thomas Anders celebrates his 60th birthday on March 1st. With Modern Talking, he started his successful musical career alongside Dieter Bohlen (69). How did he become famous, how did his stage name come about and what does he do apart from music? These five exciting facts about the singer will shed some light.
stage instead of study

Thomas Anders was born Bernd Weidung on March 1, 1963 in Mörz, Rhineland-Palatinate. He was already very interested in music when he was in elementary school and even successfully took part in a young musical talent competition. After graduating from a high school in Koblenz, he studied German, journalism and musicology in Mainz in the early 1980s. But after five semesters he was finally drawn into the world of music. After moderately successful attempts as a pop singer, he started a real hit project with music producer Dieter Bohlen in 1984: Modern Talking was born.
International stage name

His start in the music business went hand in hand with the choice of his stage name. "I got the name when I started in the music business," said Bernd Weidung aka Thomas Anders 2019. "I was on stage for the first time 50 years ago. I signed my first record deal 40 years ago. The producer said at the time that it would be better if I had an immediately understandable name. Then we came up with Thomas Anders."
Basically it was a good coincidence, because Thomas Anders can be pronounced fantastically in English, the singer explained. "It wouldn't have worked with my real name. Thomas Anders sounds more international." His concerts have taken Anders all over the world, including to Cape Town, Hong Kong, Tel Aviv, New York, Santiago de Chile, Moscow and Toronto.
Success in duo

The international appearances brought him above all the success with Modern Talking. The debut single "You're my heart, you're my soul" alone was number one in the sales charts in 81 countries. Hits like "You Can Win If You Want", "Cheri, Cheri Lady" or "Brother Louie" followed. After the Modern Talking split in 2003, Anders continued working with fellow musicians in later years.
With the producer Uwe Fahrenkrog-Petersen (62) he released the album "Two" under the name "Anders | Fahrenkrog" in June 2011, which reached number eleven in the German album charts. From 2018 he teamed up with Florian Silbereisen (41), the two released the singles "She said she loves me" and "She did it again". The first long player together, "Das Album" (2020), made it to number one in the charts in Germany, Austria and Switzerland. The duo's new album, titled "Again!" is announced for October 2023.
New ways

In his career, Anders has always broken new ground. With "Barcos de Cristal" an album in Spanish was released in 1994, which was sold in the USA and South America and even reached the top of the Argentine charts. In 2012, Anders released an English-language Christmas album called "Christmas For You", which, after more than 25 album releases, was a "long-cherished wish" of his, it is said. In April 2017 he released his first exclusively German-language album "Pures Leben", the second "Ewig mit Dir" followed in 2018.
In 2006 he tried his hand at being one of the three participants in the German preliminary round for the Eurovision "Song Contest" 2006 in Athens, but was beaten by the band Texas Lightning. In the fourth season of the ProSieben mask show "The Masked Singer" he was also on stage as a turtle in 2021 and took fourth place.
Real all-round talent

And it's not just musically that Thomas Anders tries his hand at it. In 2003 he was on the jury of Stefan Raab's (56) talent show "SSDSGPS". In 2018 he was part of the "X Factor" jury and in 2022 he was a guest judge on the first live show of "Deutschland sucht den Superstar". As a moderator, he presented the seven-part Kabel-eins program "Best of Formel Eins – Die Show" in 2004, the RTLzwei format "Die Neue Hitparade" in 2010 and the cooking show "Koch mal Anders" from 2020.
The singer also has a podcast: According to the description, the musician goes on a journey through his eventful life with moderator Andreas Kunze in "Modern Talking – Simply Different". Guests are "friends, dearest people and companions who have accompanied his path to this day".
Anders makes it clear that the fans can count on him for a long time to come. "I still feel very fit, and I get regular check-ups from the doctor." He does not give up hope of "being fit and agile for 100 years". And how will he celebrate his milestone birthday? "I am proud that the city of Koblenz is giving a reception in the theater in my honour, and in the evenings I go out to dinner with my family and closest friends. There will be big celebrations in the summer."
Source: Stern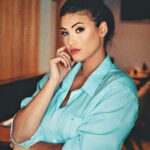 I am an author and journalist who has worked in the entertainment industry for over a decade. I currently work as a news editor at a major news website, and my focus is on covering the latest trends in entertainment. I also write occasional pieces for other outlets, and have authored two books about the entertainment industry.