Felix Lobrecht was diagnosed with ADHD as an adult. This changed the view of his life: now he can cope with many things better.
In his popular podcast "Gemischtes Hack" alongside Tommi Schmitt (34), comedian Felix Lobrecht (34) revealed some time ago that he was diagnosed with ADHD late in his life. In a new interview with the magazine "Stern", the artist now speaks in detail about his life with attention deficit disorder: "The diagnosis changes the way I look at my life." Since then he has been able to "simply cope with a lot better in some places" and understand why some things have been difficult for him in the past.
"Then this urge to move, often these problems with adjustment and authority, sometimes difficulties in concentrating – especially on things I didn't like," explains Lobrecht. In his opinion, a teacher "who is only slightly interested in his pupils" could have recognized this at school. That's why he sees many of his former teachers as "very, very bad". On the other hand: "I was young at a time when many doctors were throwing Ritalin around. I wouldn't have been in the mood for that either."
His often-described "restlessness" is also related to the ADHD diagnosis. But only in part: he learned early on as a child that recognition is always linked to performance. That runs like a pattern through life: "If you have the feeling that you always have to do something so that people like you or things work, you're always doing it. You immediately feel bad if you don't do anything." In general, he would like to be as successful as he is now, but with the ability to take more breaks.
Felix Lobrecht: "Then you get a cuff from life"

He couldn't feel his great success in recent years: "I know objectively that everything went very well, but it doesn't feel like I imagined it, I thought it would make me happy and carefree. But it is not like that." The way up is very absorbing and that means that you can't deal with yourself: "At some point it catches up with you. Then you get a bell from life."
Lobrecht published his first novel "Sonne und Beton" in 2017, which is now coming to the cinemas. David Wnendt (46) directed it. The story depicts the life of a 15-year-old boy in the Neukölln district of Berlin in the early 2000s. The title character is based on the adventures and experiences of Felix Lobrecht. However, as the artist repeatedly emphasized, not all events are autobiographical. But he doesn't want to reveal which ones he experienced himself and which sprang from his imagination.
Source: Stern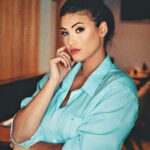 I am an author and journalist who has worked in the entertainment industry for over a decade. I currently work as a news editor at a major news website, and my focus is on covering the latest trends in entertainment. I also write occasional pieces for other outlets, and have authored two books about the entertainment industry.