Prince Harry devotes only one paragraph to Tom Parker Bowles in his autobiography. The son of the king's wife Camilla could soon become more important for the royal family.
Tom Parker Bowles is mentioned only once in Prince Harry's autobiography, Reserve. But what the ex-royal writes about the son of the king's wife Camilla is not particularly advantageous.
Tom Parker Bowles: Prince Harry devotes only one sentence to him

Angry at an article about his hunting trip to Germany in 2017, Harry explains that Camilla planted the story with the press. "I suspect the article was offered in exchange for better access to Pa, and that it also served as recompense for the suppressed articles on Camilla's son roaming around London creating tacky rumours," Harry writes in his book .
Which "tasteless rumors" Prince Harry means specifically, he does not go on. In fact, Tom Parker Bowles has made headlines in the past. When he was 24, Parker Bowles' cocaine abuse was reported in the media at the Cannes Film Festival. But that had nothing to do with public pressure to be Camilla's son, Parker Bowles said at the time. "I just loved raving," he said, according to The Times.
Coronation of King Charles III.

Today, the cookbook author is one of his mother's closest confidants. "I think he's seen the worst that the press, the media and public opinion can do to a person and thinks he can handle anything," Parker Bowles' good friend Giles Coren told The Times. In 2005 he married his ex-wife Sara, with whom Camilla kept in close contact even after the two separated in 2013. After the split, Parker Bowles began dating Alice Procope, who passed away in 2021 after being diagnosed with cancer.
According to restaurant critic Coren, the 48-year-old is fundamentally discreet and loyal, including to his stepfather, King Charles III.
Coren himself has played a risqué role in the past: In March 2019 he tweeted on Twitter confirming Prince William's alleged affair with Rose Hanbury.
Invictus Games
Love looks, kisses and stylish outfits: Meghan and Harry enchant the Netherlands
At the coronation of King Charles III. and King Consort Camilla in early May, Tom Parker Bowles could soon have a major role to play. While Harry and Meghan – should they attend at all – are likely to take just one spot in the crowd, there are reports that Camilla's son will join his nephews as bellboys. "The Sussexes will now have to watch as Camilla's family steals the spotlight, the hearts of the nation and millions if not billions of clicks and likes," a royal expert told The Times.
The picture Prince Harry painted of Camilla in his book is devastating. He describes her as a devious stepmother who sells stories about him to make herself look better. The British press is already reporting Tom Parker Bowles as a "Harry replacement" – with loyalty to the king's wife.
Sources: "reserve" / /
+++ Read also +++
It's about Kate's good friend: That's behind the affair rumors about Prince William
Source: Stern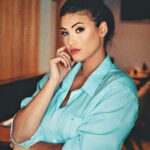 I am an author and journalist who has worked in the entertainment industry for over a decade. I currently work as a news editor at a major news website, and my focus is on covering the latest trends in entertainment. I also write occasional pieces for other outlets, and have authored two books about the entertainment industry.