The fashion boundaries between classic female and male clothing are becoming increasingly blurred: these stars love gender fluid fashion.
What if fashion suddenly had no limits? If everyone could just wear what he or she feels like doing? Regardless of gender? The division into "male" and "female" is becoming less and less important in the fashion industry. The keyword is gender fluid movement.
Stars like Jared Leto (51), Harry Styles (29) and Billie Eilish (21) love to play with their public appearances, slowly softening the rigid social rules that determined the fashion trends of the past decades and centuries. A movement that encourages each person to dress as they wish. Regardless of their gender. Pink is no longer reserved for girls and blue is no longer reserved for boys. Skirts no longer women and suits no longer men.
Fashion that tends toward gender neutrality

Genderfluid Fashion is based on the idea that gender stereotypes are broken down. Clothing and accessories are becoming increasingly gender neutral. However, the trend towards "no gender" in fashion is not a completely new one; the androgynous style has been popular with artists and designers for decades. Think of stage outfits by David Bowie (1947 – 2016), Freddie Mercury (1946 – 1991) or the appearances of model Grace Jones (74) in men's clothing in the eighties.
The "no gender" trend today

It's nothing new that women love boyfriend style and like to help themselves to their better halves' wardrobes. But the fact that stars like Harry Styles are redefining masculinity with their outfits has caused a stir in recent years. The singer likes to appear in skin-tight glittering stage outfits, wearing pearl necklaces, painted fingernails or earrings. In December 2020, Styles became the first man to be seen alone – in a Gucci dress. Since then, gender fluid fashion has become more and more mainstream.
Gender fluid fashion is diverse and creative

Jared Leto is also known for his creative and experimental way of dressing. The musician and actor has tried different styles throughout his career, but they always have a certain feminine touch. Consider, for example, his regular appearances at the Met Gala. For Leto, fashion seems to be an art form that has no gender rules.
The gender fluid fashion movement shows us that every person has the freedom to wear what he or she wants. Role models such as Harry Styles, Jared Leto and Billie Eilish – who often hid her feminine curves under wide baggy pants and XXL shirts at the beginning of her career – raise awareness of the diversity and creativity that fashion has to offer. Other celebrities who like to play with smooth transitions between the stereotypical genders are fashion designer Jaden Smith (24), actress Ruby Rose (36) and Ezra Miller (30).
The potential of the "no gender" trend is also reflected in the fashion weeks: fashion shows are increasingly no longer held separately for women's and men's collections, instead designers show fashion that can be worn by all genders. A real change in the fashion industry has started with the mixed shows.
Source: Stern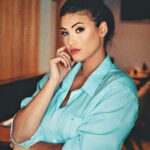 I am an author and journalist who has worked in the entertainment industry for over a decade. I currently work as a news editor at a major news website, and my focus is on covering the latest trends in entertainment. I also write occasional pieces for other outlets, and have authored two books about the entertainment industry.