The death of a friend and a dark time: Adel Tawil deals with that and more in his new album "Spiegelbild".
After three years, Adel Tawil (44) is back with new music and deep insights into his innermost being. Because hardly any album has been as personal as "Spiegelbild", which fans can now listen to. Tawil used the corona pandemic to process the "wounds of long years, the demons of even longer nights" in 16 new songs.
"There was a time in my life when it was very dark," he says in an interview with the news agency spot on news. "It's not like that at the moment, but you never know how things will develop and what awaits you in the future. I feel the same as any of us." The pandemic changed the native Berliner. He had reset his priorities, "it is particularly important to me that the time with the family is not neglected".
"Consolation and grief take time"

Last year he had to cope with a "very heavy loss": the death of his close friend, mentor and producer Andreas Herbig. "He was a true genius, but also a good friend and a loving person and father. I still think of him very often and often wonder what the boogieman would have done." With "Nirvana" he wanted to pay tribute to his friend because it was the last title they worked on together. Tawil further explains: "Consolation and grief take time. Herbig will stay with us forever through his music and his unique sound. Even if he is no longer with us, he will always be present through his music."
Adel Tawil: "Suddenly my head was on fire"

Tawil "can hardly wait" to perform songs like "Nirvana" or "Autobahn" live again. Because not being able to perform during the pandemic "burdened him more than I thought". "It was a real dry spell for all artists," said the singer. "The anticipation is all the greater now that we can finally be back on stage."
Caution and prudence are now extremely important to Tawil during his performances, because the singer has had many an accident. "In fact, I've fallen off the stage at a confusing spot," he recalls. And there was also a small fire accident during the video shoot for the single "Feuer und Eis": "Unfortunately, a chain of unfortunate coincidences led to my head suddenly burning. Luckily, I instinctively acted correctly and immediately got rid of all my clothes Body torn, so nothing worse happened. But the shock was great."
Adel Tawil's tour dates

Starting in the summer, fans will have the opportunity to experience Adel Tawil's new songs live. His open-air tour starts on June 17th in Munich. It continues in Hamburg (June 24), Stuttgart (July 19), Chemnitz (August 10) or Oldenburg (August 11). Further performances are planned in Echternach (Luxembourg) on ​​July 20th and in Schaffhausen and Zofingen (Switzerland) on August 12th and 13th.
After a short break, the "Spiegelbild" tour will start on October 5th in Rostock, followed by Erfurt (October 6th), Cologne (October 7th), Bielefeld (October 8th), Koblenz (October 10th), Hanover (October 12), Frankfurt (October 13), Berlin (October 14) and Leipzig (October 15).
Source: Stern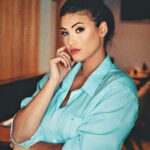 I am an author and journalist who has worked in the entertainment industry for over a decade. I currently work as a news editor at a major news website, and my focus is on covering the latest trends in entertainment. I also write occasional pieces for other outlets, and have authored two books about the entertainment industry.