Harry and Meghan finally have to move out of their old home. But that leaves Prince Harry completely unmentioned when appearing online. Nevertheless, his words are not a peace offer.
The waves around his memoirs have just calmed down, Prince Harry speaks up again – this time with a flaming plea for more vulnerability. "Men need to talk about their feelings more than ever," the royal said in an online conversation with Canadian trauma expert and author Gabor Maté over the weekend.
Said and done. In the cozy fireplace room atmosphere, Harry confessed: "I feel better than ever." He got to this point by trying to be strong while also accepting his vulnerability.
Much lost, much gained
"I've lost a lot," said the 38-year-old about leaving the British royal family. "But at the same time I've also gained a lot. Watching my children grow up the way they are doing now would not have been possible in the environment there," said Harry, referring to his old homeland.
Harry and his wife Meghan (41) retired from their official royal duties in 2020 and built a new life in California. The couple now have two children, Archie (3) and Lilibet (1). Several interviews and Harry's memoirs, in which he makes serious allegations against the royal family, have put a heavy strain on the relationship.
Prince Harry: Therapy is like learning a new language
The rift with his family came up in conversation with Maté: Working through his own history in therapy felt like learning a new language. However, this also makes him feel further and further away from his family, who do not speak this language, according to Harry. After the publication of his book, however, he felt "incredibly free".
The fact that the royal described his old home as a "shattered home" in the conversation should have caused the palace thousands of kilometers away to sit up and take notice. That made him the perfect candidate for the army. His interlocutor Maté analyzed the descriptions in Harry's memoirs that he had been emotionally neglected in early childhood.
In the conversation, organized by his publisher Penguin Random House, Harry once again addressed his experiences with drugs – in particular experiments with psychoactive substances. Although he himself described these as helpful for himself and sees "huge advantages", Harry also warned against trying something similar without professional support. "You never know what's coming," he said, referring to the emotions and trauma that could be triggered.
A Times commentator promptly derided the public therapy talk as a "Victorian freak show" where you could watch a traumatized royal being healed in a single hour by a rock star therapist.
Harry left it open whether he currently considers reconciliation with his family possible – and whether he plans to accept the invitation to his father Charles' coronation. A spokeswoman for the couple told The Times there had been an email from the palace regarding the coronation. A decision on participation will not be announced for the time being.
Will there be an olive branch?
It was only this week that caused a stir that Harry and Meghan were asked by the palace to vacate their remaining residence in Great Britain – Frogmore Cottage, which is rather modest compared to other royal properties.
Instead, Prince Andrew is reportedly set to move in there. The 63-year-old, who has largely disappeared from public view because of his involvement in an abuse scandal, has to leave his much larger Royal Lodge, which is also on the grounds of Windsor Castle, for cost reasons.
The reports about what Harry and Meghan think of the expulsion are contradictory. While it was initially said that the couple was "stunned," the Times reported over the weekend that the two could live with the decision since they already have their home in California. Visits to the old homeland are likely to complicate the development: Harry had fought – so far in vain – with legal action to continue to be entitled to police protection for himself and his family on such occasions. Whether there will be an olive branch is open: The "Mail on Sunday" claims to have learned that the couple could be offered Andrew's old home inside Buckingham Palace for visits.
Source: Stern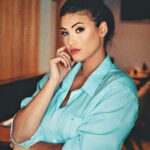 I am an author and journalist who has worked in the entertainment industry for over a decade. I currently work as a news editor at a major news website, and my focus is on covering the latest trends in entertainment. I also write occasional pieces for other outlets, and have authored two books about the entertainment industry.