Psychedelics help Prince Harry cope with trauma. The confession of the ex-royal caused mixed reactions on the net – research has been going on for a long time about the meaning of intoxicants in depression.
One of the big issues shaping Prince Harry's life is mental health. In recent years, the ex-royal has spoken in various interviews and publications about coping with his own trauma. Over the weekend, Harry met virtually with trauma expert Dr. Gabor Maté and told about his fight against mental problems in a 90-minute live stream.
Prince Harry takes psychedelics

In addition to his wife, psychedelics also played an important role in dealing with it, he revealed. They would have given him "a feeling of relaxation, relief, comfort" and "a lightness". "I started doing it as a hobby and then I realized how good it was for me," Prince Harry explained, taking it a step further: "I would say they are one of the fundamental parts of my life that has changed me and helped me deal with the trauma and pain of the past. They bring out so much of what we have been suppressing," said Harry.
Harry's confession doesn't go down well with everyone. Fiona Spargo-Mabbs, who does drug education on behalf of her son who died of an overdose, told the Daily Mail Harry's statements could have negative consequences for young people. "We work with young people under the age of 18 and our concern is that this could send a message that leads young people to believe that drugs help them with really difficult problems," she said. "Unfortunately, young people are getting the message from somewhere that drugs are helping them with their problems, and anything that adds to that is a cause for concern for us," she said.
debate in medicine

Psychedelics for the treatment of mental health problems are by no means a new phenomenon. There has been a lively debate on this in medicine for several years. For example, Anne Philippi's startup "The New Health Club" aims to normalize the use of psychedelics in treatment. (In the star did she explain why. You can read more about this here.) Both the Central Institute for Mental Health and the Charité in Berlin are researching in this field, and psychedelics are already being used in treatment at both institutions.
But there are also dissenting voices. Psychoanalyst Wolfgang Schmidbauer is critical of the medical use of psychedelics. "Therapy is about learning, not a spiritual experience," he said star in the past. "It's about developing new insights and behavior in small steps, which has a lot to do with discipline. Hallucinogens, on the other hand, release intoxicating experiences from which people expect all sorts of things. In the history of psychotherapy, this has always been seen as illusion proven."
Invictus Games
Love looks, kisses and stylish outfits: Meghan and Harry enchant the Netherlands
In his virtual interview, Prince Harry explained that an argument with his wife Meghan was the reason why he started therapy. He was afraid of losing her if he didn't get help. Meghan saved him, revealed the prince.
Sources: Interview Dr. Gabor Maté via / / star /
+++ Read also +++
What happened in the last days of Queen Elizabeth II – a royal expert wants to know
Just one word: This is how the Queen reacted to Prince Andrew's Epstein affair
Source: Stern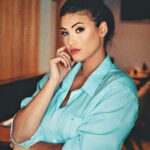 I am an author and journalist who has worked in the entertainment industry for over a decade. I currently work as a news editor at a major news website, and my focus is on covering the latest trends in entertainment. I also write occasional pieces for other outlets, and have authored two books about the entertainment industry.