Researchers have named a new species of spider after the cult band ABBA. Eight-legged friends have also been named after these celebrities.
Researchers like to get creative when it comes to naming new animal species. It is not uncommon for scientists to fall back on prominent personalities or even bands. As recently in Australia: Two researchers from Perth have named a previously unnamed orb-weaver spider "Abba transversa" – in reference to the Swedish cult band ABBA. She's far from the only spider with a famous namesake. These stars have also served as inspiration for the names of the eight-legged creatures.
Angelina Jolie

In 2008, researcher Jason Bond named the "Aptostichus angelinajolieae" after Angelina Jolie (47). Bond wanted to honor the 47-year-old for her work at the time as an ambassador for the United Nations Refugee Commission.
Barack Obama

Ex-US President Barack Obama (61) also has his "own" spider. The tarantula species "Aptostichus barackobamai" was also named by researcher Bond in 2012. The trapdoor spider is often found in the mountains, but it feels particularly at home in forests.
Tobey Maguire and Andrew Garfield

Arguably, there are no more apt spider namesakes than Tobey Maguire (47) and Andrew Garfield (39). Both have already played the comic hero Spider-Man, Maguire from 2002 to 2007, Garfield from 2012 to 2014. The "Filistata maguirei" was discovered in 2015 and owes its name to the "The Great Gatsby" star. The same researchers from Tehran named another spider "Pritha garfieldi" in the same breath – after Maguire's successor, Garfield, of course.
David Bowie

"The Rise and Fall of Ziggy Stardust and the Spiders from Mars" – that's the name of the concept album by David Bowie (1947-2016) from 1972. Although this spider was not found on Mars, a researcher named a crawling animal in Malaysia in 2008 "Heteropoda davidbowie". But not only the name connects David Bowie and the web spider. The exterior of the "Heteropoda davidbowie" is at least as extravagant as the stage outfits of the singer, who died in 2016.
Harrison Ford

Harrison Ford (80) immortalized himself as archaeologist Indiana Jones in the films of the same name. Not infrequently he had to deal with crawling creatures such as spiders in the blockbusters. No wonder, then, that the acting legend also served as a spider name. The "Calponia harrisonfordi" is a true web spider and was first named in California in 1993. To date, it is the only described species of the genus Calponia.
John Lennon

Ex-Beatle John Lennon (1940-1980) spread messages of peace and harmony during his lifetime. So it seems rather unusual that a tarantula discovered in Brazil in 2015, which many people fear, was named after the musician. In the Caxiuanã National Park, the "Bumba lennoni" was actually named after him. About 1 inch (2.54 centimeters) across, it's a small tarantula, but it's related to the Goliath tarantula, the world's largest known spider.
Nelson Mandela

One spider was probably not enough for him: Nelson Mandela (1918-2013) has two South African spider species named after him. In 2004 the "Stasimopus mandelai" was discovered, two years later researchers named the "Anelosimus nelsoni" after the former president of South Africa.
David Attenborough

David Attenborough (96) also served as a namesake not just once. The British animal researcher has both a fossil fish species, a carnivorous plant and a beetle named after him. A spider, the "Prethopalpus attenboroughi", was added in 2012. It belongs to the group of dwarf six-eyed spiders and has so far only been sighted on Horn Island north of Queensland.
Stephen Colbert

Related to Angelina Jolie's "Aptostichus angelinajolieae" is the "Aptostichus stephencolberti" discovered in 2007. It is named after the popular US talker Stephen Colbert (58). However, researchers originally set their sights on a different name when they found the trapdoor spider on the coast of California. Colbert practically begged Professor James Bond to name the spider after him – and he finally gave in.
Source: Stern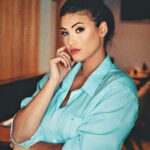 I am an author and journalist who has worked in the entertainment industry for over a decade. I currently work as a news editor at a major news website, and my focus is on covering the latest trends in entertainment. I also write occasional pieces for other outlets, and have authored two books about the entertainment industry.