The separation drama after the jungle camp goes into the next round. Iris Klein claims that she and her separated husband Peter had sex – with Yvonne Woelke of all people.
Since Yvonne Woelke and Peter Klein got closer to each other in the accompanying hotel of "I'm a star, get me out", his marriage is on the brink. Now his wife Iris claims in voice messages that the separated couple have had sex again. Much to the dismay of the recipient Woelke.
"She sent me voice messages," confirmed Woelke to "Bild". Klein claimed to have slept with her separated husband Peter again. She also attached a photo that should show Peter half-naked in the bathroom. They would now shower together, the message apparently says. And: She would add pictures of the nude next time.
Junk messages and made-up sex

Woelke is irritated by the unwanted sex messages. "I'm very surprised why she reveals such intimate details to me," she said "Bild". She didn't want the news. "I can endure a lot, but certainly not the two of them having sex."
And someone else doesn't understand the action: the alleged bedfellow Peter Klein. "The sex that Iris claims never happened," he told the newspaper. His wife secretly took the photo of him – just when she announced to him that, according to the lawyer, they would be divorced in less than three months.
"It was created on International Women's Day. I was doing sports that day and then I went to the shower," he says of how the picture came about. Unexpectedly, his estranged wife came in and gave him the "good news" about the divorce. He only noticed that she took a photo when she left because of the flickering of the mobile phone. "I confronted her straight away, but she said she didn't take a picture."
Endless marital drama

Klein says he is disappointed with his wife's behavior. "The fact that she took a photo and sent it around makes me sad and angry," he admits. He fears that the encroaching image might not be the end. "I'm very afraid of what else I have to endure and accept."
The marriage drama between the two had repeatedly made headlines in recent weeks. Peter Klein and Yvonne Woelke had become closer as part of this year's jungle camp, both had traveled as companions to the participants Djamila Rowe and Lucas Cordalis. However, Woelke does not want to have returned the intense feelings that Peter claims to have developed. She sees Peter as more of a "father figure," she soon reported. The affair rumors also had consequences for her: she moved out of home in February as a result of the separation from her husband.
Peter Klein now seems to have come to terms with the separation from his wife. He has no need for revenge because of the sex news, he explains to "Bild". "I'm not going to give you an eye for an eye, like for like. I can only appeal to Iris that she should please come to her senses."
Source:
Source: Stern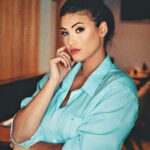 I am an author and journalist who has worked in the entertainment industry for over a decade. I currently work as a news editor at a major news website, and my focus is on covering the latest trends in entertainment. I also write occasional pieces for other outlets, and have authored two books about the entertainment industry.