As her father Michael Weber confirms, Jasmin Tawil is said to have been arrested in Costa Rica. Her crash, which began after the separation from Adel Tawil, has reached another low point.
"I have heard from several sources in Costa Rica that my daughter is in prison and my grandson Ocean is in the home. I have been in continuous contact with the consulate since February 20th and could possibly get Ocean out of there with the help of the Berlin Youth Welfare Office. Problem But it's that he has American citizenship," explains Jasmin Tawil's father Michael Weber RTL.
"I'm incredibly sad and currently don't know what to do." It is the latest development in the case of the former GZSZ actress, who moved to Costa Rica a few years ago. But her fall began much earlier.
Jasmin Tawil and Adel Tawil got to know each other early on

Jasmin Tawil became known in Germany in 2005 in her role as Franziska Reuter in "Gute Zeiten Schlechte Zeiten". For three years she played in the ensemble of the early evening series, then it was over. At that time, Tawil was still called Weber, but was already in a relationship with musician Adel Tawil. The two got together in 2001, and in 2011 they rounded off their love with the wedding. The luck didn't last long. The couple separated in 2014. A turning point in the life of the actress, as she herself told the "Gala".
"Our love hasn't always been easy, and in May 2014 Adel and I actually broke up after we got back from his first indoor tour in March. I flew to California, but I really just wanted a break from our relationship at the time ", she said. She then shot her ex-partner on Instagram, reproachfully writing, "How could you?" and tagged the singer. "I wanted to send a signal that things couldn't go on like this. However, while I was over there, a new woman appeared surprisingly quickly at Adel's side," said Tawil.
Adel Tawil showed up with a new woman

At the time, Tawil saw the reason for the separation in her husband's success. Because when they met, they had financial problems. Their role in GZSZ kept the two afloat, Tawil reported in the "Gala". Her own musical ambitions would not have tasted her famous partner, she claimed at the time. "It was too much for him. I should continue to be the woman who gives him tea and irons his shirts. And he said that we shouldn't do the same thing. That there would be a competitive situation that wasn't good for ours relationship. I should go back to the second row," said Tawil. While still suffering from her broken heart, Adel Tawil showed up early with a new woman by his side. A slap in the face for his ex-wife.
divorce rumors
Cathy and Mats Hummels – the pictures of their love
The 40-year-old repeatedly shared her frustration on social networks or with her music. In 2018 she suddenly disappeared from the public eye. Then in 2019 the surprising announcement: Tawil lives in Hawaii and has become a mother. "When luck strikes you," she captioned an Instagram photo of herself with her baby. Most recently, Tawil had no contact with the child's father. Her partner in Costa Rica was an Italian, with whom, according to the "Bild" newspaper, there were violent arguments.
Tawil's father is sad after the latest developments. "Our relationship was good again until two months ago, and then she fell into a deep valley," he says RTL. His goal now is to help grandson Ocean – and his daughter at the same time.
Sources: / /
+++ Read also +++
Jasmin Tawil surprises with baby news: That's what her father says about it
Source: Stern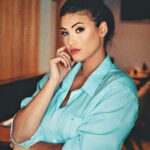 I am an author and journalist who has worked in the entertainment industry for over a decade. I currently work as a news editor at a major news website, and my focus is on covering the latest trends in entertainment. I also write occasional pieces for other outlets, and have authored two books about the entertainment industry.