In her autobiography, Paris Hilton reports on bad experiences that she experienced, especially as a young woman and as a girl.
In her new autobiography "Paris: The Memoir", Paris Hilton (42) writes about several dramatic and drastic experiences in her life. Among other things, she talks about being raped in high school, being harassed by a teacher and how fallen Hollywood mogul and convicted sex offender Harvey Weinstein (70) made "perverted, strange comments" about her.
Paris Hilton was harassed by a teacher

Hilton recalls a "pretty young teacher" who all her classmates had a crush on in eighth grade. The teacher told Hilton that he had a crush on her again and asked her for her phone number.
He called her "almost every night" and we talked for hours about how incredibly mature, beautiful and intelligent I was, how sensual, misunderstood and special". One evening when her parents were not at home, the teacher drove to her house and she got into his car. "The teacher pulled me into his arms and kissed me," Hilton writes. Their parents caught them. The teacher blamed her and asked, "Why did you force me to do this?" It was only much later that she was able to come to terms with what she had experienced.
Paris Hilton was raped as a teenager

As a high school student, Hilton was raped after visiting a mall. There, together with a friend, she met two men in their twenties who asked the girls if they wanted to come with them to their apartment. The 42-year-old reluctantly drank from a drink that was handed to her and then lost consciousness.
Later, Hilton felt a heavy weight on himself. She felt panic and wanted to get up, but it was as if something had severed her spinal cord. "When I tried to scream, there was no air in my lungs," she continues. The man aggressively covered her mouth and whispered: "It's a dream, it's a dream, you're dreaming."
Harvey Weinstein's comments about Paris Hilton

Paris Hilton has also had bad experiences with former film producer Harvey Weinstein, who was accused of inappropriate behavior and sexual violence as part of the #MeToo movement by almost 90 women. In May 2000 she met him for the first time at a lunch with another producer. At the time, Weinstein made "perverted, strange comments" about her and her "possibly huge future in his world".
Even at this meal, Weinstein behaved in a very "scary" manner. During the amfAR gala the following night, he then unbidden followed Hilton to a restroom, where she hid from him in a stall. Apparently Weinstein was drunk, banged on the door and said things like "Do you want to be a star?" called. She first looked for a window from which she could have disappeared, but then a security guard intervened and threw out the loudly protesting ex-film mogul.
Paris Hilton had an abortion in her twenties

In her autobiography, Hilton also writes about having an abortion, which she decided to have at the age of 22. "When I realized I was pregnant, it was like waking up on the ledge in front of a fortieth floor window," she explains. "I was scared and heartbroken. The hormones sent my ADHD symptoms into a spiral."
At the time, Hilton was in a relationship with model Jason Shaw (49). But she knew that it could not have been "a happy little family". In her opinion, a pregnancy would have ended in disaster for everyone involved. "There was no way I was capable of being a mother at that moment in my life." Today she is mom. Hilton married her partner Carter Reum (42) in 2021. In January 2023, they became parents to their son Phoenix, who was born via surrogate mother.
Paris Hilton resisted the sex tape

In the early 2000s, a sex tape of Hilton and her then-boyfriend Rick Salomon (55) became public. Salomon said: "He had said many times that it was something he had done with other women, but I felt strange and uncomfortable about it. I kept telling him, 'I can't. It's too embarrassing.'" Solomon is repeatedly responded that she had found excuses.
Her boyfriend at the time assured her that it would never go public and gave her an ultimatum: "He told me if I didn't do it, he could just find someone else who would." For her, it was the worst thought at the time that this grown man could separate from her – because she was a "stupid child" who had no idea about "adult games". She was in her early twenties at the time, Salomon was already in his thirties. Before the recording, she drank alcohol and took an intoxicant.
Source: Stern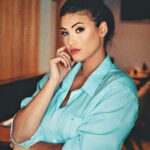 I am an author and journalist who has worked in the entertainment industry for over a decade. I currently work as a news editor at a major news website, and my focus is on covering the latest trends in entertainment. I also write occasional pieces for other outlets, and have authored two books about the entertainment industry.