He vermouth It is a drink of European origin widely enjoyed in Argentina. It is composed of a base of came and a mixture of botanicals, flowers, shells, spices and carameland it is also headed with wine alcohol quality. The Buenos aires city has many restaurants, pubs and vermouth bars offering their version of drink. Therefore, if you do not know which one to start with, we bring you an unmissable list.
The Vermouth Route: 8 bars and restaurants in the City that offer the best version of the drink
Growlers
Growlers is the renowned urban and artsy spirit bar that fuses a wide variety of beer styles with tasty home cooking. Its premises add up to more than 150 taps through which the best craft beers in the country pass, selected by specialized sommeliers. A boom that has only been growing are its mixed cocktails, made from their own recipes with syrups and different types of distillates, very careful from the origin of the production to the preparation of the cocktail at the bar with "tinctures", dried fruits and other products. A highlight of this line is the pulled vermouth that they offer in collaboration with the Cosas Imposibles brand, which is prepared infused with pineapple and mint cordial, served with lots of ice, dried pineapple and fresh mint. It is also offered in a 254 ml can format to take home or drink at the premises. This Thursday 23, for Vermouth Week, they will offer 2 for 1 in pulled vermouth, Cinzano Segundo and Cinzano común.
Addresses: Av. Santa Fe 1430, Recoleta / Gurruchaga 1450 esq. Pje. Col. Cabrer, Palermo / Amenábar 3201, Núñez and more branches in CABA.
The Captain
La Capitana is a thematic bodegón and vermouth bar that delights with classic porteño flavors of gastronomy while paying homage to Eva Perón through its careful setting. His proposal presents a clear review of the flavors that marked history in the country and that is how the potato cake stuffed with braised meat, the milanesas, empanadas and pot dishes are part of his menu. The bar stands out for its vermouths and appetizers, where Cinzano, Martini, Carpano, Hesperidina, Pineral, Amargo Obrero, among others, parade in a leading way in its cocktail proposal. From March 21 to 27, during "La Hora de Perón" (vermouth time from 6:30 p.m. to 8:30 p.m.), they will offer 2 for 1 on everything that is classic vermouth both in pitchers and glasses. Some recommended ones are the Descamisada (with red vermouth, hesperidin, tonic and orange) and the Americano (with red vermouth, Campari, soda and orange slice). The perfect opportunity to toast with colleagues during Vermouth Week.
Address: Guardia Vieja 4446, Almagro.
suburb
Arrabal is a modern canteen, located in the Chacarita neighborhood, which is presented as the perfect alternative to share between tapas, cocktails, vermouths or sangria. Between porteño flavors and nods to other cuisines in the world, the prominence of this place is taken by its proposal of small dishes, where preparations with more elevated twists are shown off, such as sweetbreads on a plate over creamy potato and smoked curry, or others less complex, like their famous spinach, kale and carrot fritters. To pair, the house offers a variety of signature cocktails, sangria in a pitcher and vermouth penguins. As interesting information for followers of the tapas plus vermouth trend, recently, this coordinate added "La Hora Vermutera": from 7:30 p.m. to 8:30 p.m., they offer a glass of Cinzano vermouth plus a tapa -which rotates weekly- at a reasonable price. special. A must for those who want to end the day with a different activity.
Address: Santos Dumont 4056, Chacarita.
Ninina
Ninina, the restaurant that offers healthy and cosmopolitan cuisine, with options to enjoy for breakfast, brunch, lunch and snacks, turns 10 and celebrates by renewing its menu. With the new proposal, your preparations can now be accompanied with refreshing "La Fuerza" artisanal vermouths. They offer Red (with soda, mint and red fruits), White (with soda, juniper, quina and lemon) and Rosado Primavera de los Andes (with soda, lemon verbena, mint and grapefruit). La Fuerza is the first vermouth of the Andes, made in Mendoza based on local wines and with more than 30 botanicals from Argentina and wild herbs that are collected at the foot of the mountain range. It should be noted that every day, from 6 p.m. until closing, 2 for 1 vermouth is offered at its three locations. Undoubtedly, a perfect option to pair with the cheese and cold cuts board, made up of Parma-type raw ham, Las Dinas cooked ham, sopresatta, gruyere, Parmesan, camembert, goat cheese, Patagonzola, black and green olives, almond praline and red cranberries, with sourdough seed bread and brioche made from organic flour.
Address: Gorriti 4738, Palermo/ Holmberg 2464, Villa Urquiza / Malba Museum, Barrio Norte.
More cocktails with vermouth to enjoy this week
Virgin
The Buenos Aires neighborhood of San Telmo is home to an attractive Mexican bar and restaurant: Virgen. With an aesthetic that dazzles and traditional cuisine that stands out for its modern touches, its gastronomic proposal stands out for its innovative fusions, such as guacamole with flambéed watermelon, octopus tacos or Mexican lasagna. All the options on your menu pair perfectly with your original signature cocktails, inspired by the works of the great Frida Kahlo. One that stands out in particular is La Frontera, which evokes the moment when Frida followed her husband to San Francisco. There, nostalgic for Mexico, she portrays the United States as a hostile place, full of machinery and smog, and romanticizes her indigenous roots, which are literally present under the surface in which she finds herself. That is why this cocktail contains traditional ingredients, such as soursop and agave syrup, which are fused with lime, vodka and vermouth, to result in a cocktail that has it all.
Address: Av. Caseros 467, San Telmo.
Picsa
Greats from local gastronomy came together -Leo Azulay, Aldo Graziani, Lucila Zeballos, and partners- and created Picsa, the Palermo space that worships the molded argenta pizza: sourdough based on organic flours, slow fermentation and firewood cooked The result is a pizza with a crispy base, airy dough, light and with a distinctive smoky flavor, in classic and other original versions. The proposal, which includes traditional fried empanadas and even a mezze, is completed with a short list of signature cocktails designed by Bianca Bertoli with a focus on "bitters", which can work as appetizers, accompany food or lift an afternoon. This is the case of the Negroni (almost) Argento, the house version of a cocktail classic. At Picsa it is made with Gin Argentina Wild, Campari and Vermouth Alfonsina Floreale, a low-intervention vermouth, made up of Malbec, wormwood, coriander, dill, mint and others, with sweet notes of red fruits. It is served in a short drink glass and decorated with a slice of orange.
Address: Nicaragua 4896, Palermo.
AVG Electric Cafe
In the Arcos del Rosedal, you will find AVG Electric Café, a spot with an atmosphere full of vegetation and modernist touches, ideal to taste its wide range of specialty cafeterias, an "Breakfast All Day" offer and tempting dishes to enjoy at any time. time of the day. To accompany their gastronomic options, they offer an unmissable list of signature cocktails, made with seasonal fruits, artisanal cordials, top-of-the-line liquors and distillates. One of the most outstanding is the Vermouth Tonic, a reversal of the traditional Gin Tonic made with 70% Cinzano Segundo vermouth and 30% soda. Served in a tall glass with ice cubes and garnished with fresh lemon wedges. All the options of this place can be enjoyed in the open-air spaces of its front patio or in its lounge with furniture and "Mad Men" style, from Tuesday to Sunday from 9 a.m. to 9 p.m.
Address: Av. Infanta Isabel 110, Arco 9, Palermo.
Holy Pizza Bar
In Palermo Soho, Santo Bar de Pizzas proposes a product of Buenos Aires heritage, based on a careful use of techniques and a meticulous selection of ingredients. Its tempting pan pizzas are made with an exclusive blend of flours, sourdough and a 24-hour cold maturation to later be complemented with high-quality raw materials. The gastronomic offer is combined with a select list of white and red wines, appetizers and house cocktails, some with vermouth, such as the Bianco de la casa (with bianco vermouth, Campari, a shot of soda and rosemary and lemon smoke) . Santo Bar de Pizzas is ideal to go with family, friends or alone, whether in the morning, midday or at night. A place to go passing through or sit down to enjoy a great banquet, feeling at home on every occasion.
Address: Charcas 4799, Palermo Soho.
Source: Ambito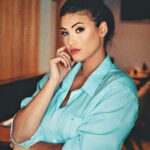 I am an author and journalist who has worked in the entertainment industry for over a decade. I currently work as a news editor at a major news website, and my focus is on covering the latest trends in entertainment. I also write occasional pieces for other outlets, and have authored two books about the entertainment industry.