Is there something brewing between Harry Styles and Emily Ratajkowski? The model would join a prominent list.
Actor and singer Harry Styles (29) is currently on a world tour, his last stop was in Tokyo, Japan. There he was photographed with a special lady by paparazzi. In the photos he gets in touch with model Emily Ratajkowski (31). The two look very familiar with each other in the pictures, even kissing. Is there a new romance brewing here? Ratajkowski would thus join a prominent list. These ladies have already been seen alongside Styles.
Olivia Wilde

Harry Styles was probably his longest relationship to date with actress Olivia Wilde (39). She cast the singer in her 2020 film Don't Worry Darling. A little later, the director separated from her then partner Jason Sudeikis (47), with whom she has two children. Styles and Wilde never confirmed their relationship to the press, but they were often photographed by paparazzi. Several insiders also backed up the rumours.
Towards the end of 2022 they are said to have "taken a break". The 39-year-old wanted to take care of her children more while the musician was busy with tours.
Camille Rowe

Harry Styles is said to have dated Victoria's Secret model Camille Rowe (33) from 2017 to 2018. Here, too, the One Direction star was silent. " he denied knowing Rowe at all. However, photos proved the opposite: Rowe was seen again and again at his concerts. She even traveled around the world.
Final proof that the two were a couple came with Styles' song "Cherry" on the album Fine Line. With her permission, he used a voice recording of Rowe at the end of the song.
Kendall Jenner

Harry Styles also got involved with the Kardashian-Jenner clan … and more than once! In 2013 he was first spotted with Kendall Jenner (27) at a dinner. They then spent a winter vacation together in Mammoth, California. Jenner has always denied all dating rumors. At the beginning of 2014, however, it was all said to be over.
They were then spotted together again on New Year's Eve 2015 and spent New Year's together. Overall, they are said to have been a couple for almost a year afterwards, but there was never any official confirmation of this.
Georgia Fowler

Between the two dating phases with Kendall Jenner, Harry Styles spent a lot of time with model Georgia Fowler (30) in New Zealand in 2015. For once, their relationship wasn't a secret. The model regularly shared snaps with the former boy band star on social media. It is even rumored that he dedicated his song "Kiwi" to her. "It's very unlikely," Fowler once assessed this rumor on The Morning Show.
Nadine Leopold

Another model that Styles is said to have temporarily dated is Nadine Leopold (29) from Australia. They spent his 21st birthday together in 2015. Shortly thereafter, however, it was said to be over again.
Nicole Scherzinger

Olivia Wilde isn't the only older woman Styles is said to have felt a deep connection with. In 2013 he is said to have fallen in love with Nicole Scherzinger (44), front woman of the Pussycat Dolls. She was 35 at the time and he was only 19. Over the years they are said to have met again and again, but a serious relationship has never developed.
Taylor Swift

At the end of 2012, Styles was photographed with superstar Taylor Swift (33) in New York's Central Park, among other places – the two made no secret of their relationship. He met her family, she visited him in England. However, in early 2013, the musicians reportedly split while on a romantic vacation to the British Virgin Islands.
Nevertheless, the media attention around the two did not stop. After all, Swift is said to have dedicated several songs on her hit album "1989" to the heartbreaker, especially the song "Style", which is reminiscent of the 29-year-old just because of the name. They are now friendly colleagues in the music business and have even been photographed together at award shows.
The list doesn't end…

There are said to have been numerous other women in Harry Styles' life over the years. From his first love Felicity Skinner to presenter Caroline Flack (1979-2020) and Emily Atack (33) to model Emma Ostilly, Rod Stewart's (78) daughter Kimberly Stewart (43) and actress Erin Foster (40). Most recently, he was even said to be flirting with his youth idol Jennifer Aniston (54). How much is behind it, however, is questionable.
Source: Stern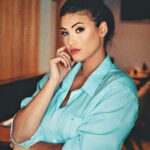 I am an author and journalist who has worked in the entertainment industry for over a decade. I currently work as a news editor at a major news website, and my focus is on covering the latest trends in entertainment. I also write occasional pieces for other outlets, and have authored two books about the entertainment industry.