Terry Sanderson asked Gwyneth Paltrow for $300,000. In the end he faces financial ruin as the culprit. For the entrepreneur, the court case was a PR coup.
In mid-March, Gwyneth Paltrow caused a stir when she told a podcast about what she eats every day. You motivate to go hungry, criticized some people on the Internet. Two weeks later, hardly anyone is talking about the wellness entrepreneur's controversial nutritional tips. Instead, Paltrow has achieved new cult status after defending herself in court in Utah.
Gwyneth Paltrow: Plaintiff faces financial ruin

Dressed in multi-thousand-dollar but subtle designer clothes, Paltrow took the witness stand about her 2016 skiing accident. The plaintiff, optometrist Terry Sanderson, accused her of driving into him and causing physical injuries. In a first lawsuit, he wanted three million dollars in damages, but the amount was ultimately reduced to $300,000. In the end, Sanderson lost to Paltrow. Instead of being financially sane, he not only has to pay her a dollar in symbolic damages, but also pay the court and attorney's fees for the multimillion-dollar Paltrow. Sanderson faces financial ruin.
But the plaintiff is not only plagued by the fact that the judgment will cost him dearly. Because he even achieved unwanted notoriety through the live broadcast of the process. "I'll be on the internet forever," he told Extra, revealing he regrets the lawsuit. Not only was the mental state of the 76-year-old discussed in court, his own daughter also picked out his qualities as a father in a written statement. Sanderson's reputation: ruined.
Depp/Heard trial
Leather jackets, glamor and rumours: When Johnny Depp and Kate Moss were still in a relationship
Things are different on Gwyneth Paltrow's side. The former actress is in the conversation, and in this case, it's not because of her shady wellness practices. "It's not often that for a dollar you're going through all the cost, time and hassle of litigation," celebrity attorney Tre Lovell said, according to AP News. "But she wanted to turn that into something positive, to say, 'I don't let myself be taken advantage of' and 'I'm a good person'." Paltrow's image is not only intact after the trial, it's improved – and image is almost the most important currency in the case of a Hollywood entrepreneur.
memes on the internet

Only the many memes at Paltrow's expense should stick with her for a long time. The clip, in which she says she lost "half a day of skiing" to the accident and then had to book a massage, went viral. Ultimately, however, it fits Paltrow's image of being a bit off the hook anyway. Tips on how to monetize the process can already be found online. "If Goop doesn't send out a '6 looks to wear when you've been charged but doesn't really matter' shopping guide newsletter, I'm going to lose my goddamn mind," tweeted journalist Allison P. Davis.
And another actor in the process should be happy about positive attention. James Egan, one of the attorneys on Paltrow's defense team, has been nicknamed "Law Daddy" and "Hottie" online. From Gwyneth, who almost starved to breaking bones, to the accused of a cult – apparently only Hollywood stars succeed in such a PR coup.
Sources: /
+++ Read also +++
Source: Stern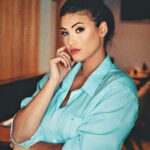 I am an author and journalist who has worked in the entertainment industry for over a decade. I currently work as a news editor at a major news website, and my focus is on covering the latest trends in entertainment. I also write occasional pieces for other outlets, and have authored two books about the entertainment industry.