In 2021, Christina Applegate was diagnosed with multiple sclerosis. In an interview, she reported on her life with the disease.
For Christina Applegate (51), it is not the first serious illness that has turned her life upside down. She was diagnosed with breast cancer in 2008, but has since beaten it. In order not to take any risks, she decided at the time to have a bilateral prophylactic mastectomy.
In early 2021, doctors again had bad news for the Hollywood star. While filming the final season of her Netflix series "Dead to Me," she received the news that she had multiple sclerosis.
The diagnosis not only sealed the abrupt end of her impressive career, but also the end of the usual everyday life of the mother of a twelve-year-old daughter.
In one, Applegate spoke frankly about the serious impact of the serious illness on her life.
"With the disease MS there is never a good day"

There she said: "With MS there is never a good day. You only have little shitty days. People say something like: 'Why don't you shower more often?' Well, because it scares me to get in the shower. You can fall, you can slip, you can bend your legs. Especially since I have a glass shower. It scares me to go in there."
The progressive disease affects all areas of life. "There's just certain things that people take for granted in their lives that I've taken for granted. Walking down the stairs, carrying things – you can't do that anymore. It sucks. I can still go short distances drive the car. I can bring the food up for my child. But only up, never down."
Support from family and friends

Luckily, she has a lot of people around her who actively support her in everyday life. In addition to her husband, the rock musician Martyn LeNoble (54, The Cult) and her daughter Sadie Grace, she also has many friends and medical advisors at her side. "I have a friend who lives here during the weekdays and helps me look after Sadie," she explained. "And at the weekend I have a supervisor."
In general, however, she avoids contact with many people. "But I don't really want to be around a lot of people because I'm immunocompromised. I also don't want my nervous system to be stimulated too much because that can be a bit too much for me. I want it to be as calm and gentle as possible hold."
Hard farewell to the film world

Saying goodbye to the film world is difficult for her, but she is also relieved that she no longer has to stand in front of the camera despite being ill. "It feels like it's been a hundred years just because it was, and it was such an exhausting and draining time for me to even shoot," she said. "I think I just had to get away from it all, you know? (…) I miss the experience, but at the same time I'm relieved that I don't have to try as hard to get through the day as it was an incredible fight last year."
Star on the Walk of Fame

Luckily, there's always good news for the tragic actress. In November 2022, she was honored with a well-deserved star on the Hollywood Walk of Fame. Christina Applegate came to the ceremony with a walking stick – but also with a big smile on her face.
Source: Stern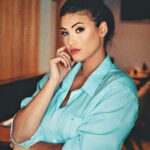 I am an author and journalist who has worked in the entertainment industry for over a decade. I currently work as a news editor at a major news website, and my focus is on covering the latest trends in entertainment. I also write occasional pieces for other outlets, and have authored two books about the entertainment industry.