"We can never be on time," said King Charles III. said to Camilla before the coronation, when the couple had to sit in the carriage longer in front of Westminster Abbey. The reason: William and his family.
Royal comments in all frankness are extremely rare. And so British media likes to employ professional lipreaders at major events to find out what King Charles III, Queen Camilla and Co actually have to say. The broadcaster Sky News claims to have found out that shortly before his coronation, Charles was not excited, but rather annoyed. The reason: small blunders in the meticulously clocked schedule.
"We can never be on time," the king said to his wife when the couple had to sit in the carriage longer in front of Westminster Abbey. "Yes, I'm… This is negative. There's always something… It's boring," the 74-year-old grumbled, according to Sunday's report. Earlier, Bishop of Chelmsford Guli Francis-Dehqani acknowledged that there had been "a hiccup or two" in the process. But she did not want to give details: "I will not expose anyone in particular."
Prince William and his family were late for the coronation

However, the British media blamed the heir to the throne and his family: Prince William, Princess Kate and the children, Princess Charlotte and Prince Louis, arrived at the church too late – they could not have overtaken the carriage with the royal couple. According to the schedule, William and Kate should arrive outside Westminster Abbey at 11:45 a.m. (CEST) on Saturday, with Charles and Camilla then at 11:53 a.m. But the royal couple had to hold out longer than planned, and Charles seemed slightly annoyed. Instead of sneaking into the church through a side entrance, William and his family had to follow behind the king and queen.
While his mother Queen Elizabeth II showed stoic calm in every situation, Charles is well known for minor emotional outbursts. Shortly after the beginning of his term of office, the king was visibly and audibly annoyed by a dripping fountain pen. "I can't stand that stupid thing…every damn time," Charles grumbled in Belfast at the time.
Coronation Celebrations
A princess to touch: Kate and William surprise people at the "Big Lunch"
Source: Stern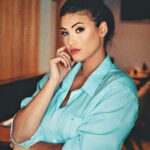 I am an author and journalist who has worked in the entertainment industry for over a decade. I currently work as a news editor at a major news website, and my focus is on covering the latest trends in entertainment. I also write occasional pieces for other outlets, and have authored two books about the entertainment industry.