"Herzstolpern" star Sebastian Ströbel will be celebrating his tenth anniversary with the "Bergretter" next year – a "heart project", as he says.
In the second part of the family film "Herzstolpern" (May 8, 8:15 p.m., ZDF), dad Alex Häverkamp (Sebastian Ströbel, 46) and the manager of the integrated farm, Elisa Jansen (Anna Maria Sturm, 40), go in search after his escaped son Felix (Benjamin Raue). He secretly made his way to Italy with his girlfriend Emma (Juliane Siebecke) to visit Emma's grandfather. Emma and Felix were born with trisomy 21 and, much to their parents' concern, travel alone by train and bus…
Real stories instead of stilted dialogues

The first part of the film ran on Sunday (May 7th) in the Herzkino slot. But instead of one of the usual kitschy novel adaptations with stilted dialogues in breathtaking landscapes, the TV audience was served a good and genuine interpersonal story. With the TV two-part series "Unterm Apfelbaum" (2022) and "Family Anders" (2023), two similarly pleasing productions have recently been broadcast.
Will the broadcast slot be depilated a bit in general? "I only know that I was assured beforehand that we would make a serious film. I wanted the topic to be taken seriously, that we would tell a drama about real people. And we succeeded," says actor Sebastian Ströbel in the Interview with spot on news. "I really believe that ZDF is trying to bring more and more of these little human stories to the program on Sunday. If we have contributed to this with this little jewel, then of course I'm happy."
The many scenes in "Herzstolpern", which take place in a yellow bus, should have made Ströbel happy. Because the family man is also a vanlife fan in his private life. "We have four children and also a bus. We just packed everyone in there and drove around," he says. "The children liked it very much, they have the vagabond life, the curiosity for new influences just in their blood," he recalls. He also moved a lot in his life. "The fact that I also get around a lot professionally suits me a lot," says Ströbel.
Ten years with the "mountain rescuers"

He gets around particularly well when filming the TV series "Die Bergretter" (ZDF, since 2009), which is filmed in Ramsau near Berchtesgaden in Upper Bavaria. Since 2014, Sebastian Ströbel has earned a permanent place in the hearts of fans as Markus Kofler, head of the mountain rescue service. Next year he will be celebrating his tenth anniversary with the format. "I owe a lot to the series. But so does the series – I already have that much self-confidence," he laughs. "I like to put a lot of energy into it, because for me it's simply a heart project. I love this format and I also think that it's far from over."
Ströbel describes the special magic of the series as follows: "It combines many human longings: the home aspect, having roots, loyalty, friendship and then this archaic element of mountains and people. All in all, these are the ingredients for a very tasty cake. We With these elements, like juggling, we can always add a ball or let one out. That's great fun. And the team is like family to me now."
And what does his personal anniversary with the "mountain rescuers" mean to him? "The ten years make me very proud, because we simply make an incredible number of people happy with this format," he says.
So the fans don't have to expect a farewell? "No. The fans can look forward to many more films," says Sebastian Ströbel. And then he reveals: "We're shooting this year – I'm on my way to Ramsau for the second shooting block right now – and next year and then we'll see how it goes on…"
Source: Stern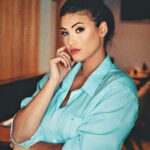 I am an author and journalist who has worked in the entertainment industry for over a decade. I currently work as a news editor at a major news website, and my focus is on covering the latest trends in entertainment. I also write occasional pieces for other outlets, and have authored two books about the entertainment industry.