Actor Ferdinand Hofer turns 30. In an interview, the fan favorite from the Eberhofer thrillers and the Munich "crime scene" reveals how he's celebrating.
Actor Ferdinand Hofer is celebrating his 30th birthday this Wednesday (May 10). Since 2013 he has been part of the success story of the Eberhof crime novels: Max Simmerl, the son of butcher Simmerl (Stephan Zinner, 48) is now a junior police officer in the Niederkaltenkirchner district of village police officer Franz Eberhofer (Sebastian Bezzel, 51). The next crime comedy "Rehragout-Rendezvous" starts in the cinemas on August 10th. And Ferdinand Hofer also played his way into the hearts of fans at the Munich "crime scene". Since 2014 he has embodied the assistant Kalli Hammermann alongside the Sunday crime stars Ivo Batic (Miroslav Nemec, 68) and Franz Leitmayr (Udo Wachtveitl, 64). The next episode "Tatort: ​​Game Over" will air on May 21 at 8:15 p.m. on the first.
In an interview with the news agency spot on news, Ferdinand Hofer, who played in Marcus H. Rosenmüller's (49) "Schwere Jungs" (2007) and then in "Mother of Pearl" (2009) at the age of 14, reveals how he celebrates his milestone birthday . The Bavarian actor also explains which dreams have come true and which wishes are still open. And he gives a little preview of his two star roles.
How do you celebrate your birthday – a wild party with lots of friends or more comfortably?

Ferdinand Hofer: Of course there is a wild party with lots of friends. I think at my age you can still do that.
At the age of 30, many people take stock of their life for the first time. How grown up do you feel?

Hofer: I don't know how grown up you should feel at 30 or how adulthood should feel. For me right now it feels like the best time of my life. I think, in principle, I could stay 29 for another two or three years.
Which dreams have come true?

Hofer: I turned my passion into my job. This is one of my dreams that has come true. In addition, in my late 20s, I finally managed to grow enough beard for a proper mustache.
What big wish would still be open?

Hofer: Basically, I wish that I can continue to lead as happy a life as I have had so far. And of course I want new challenges from a professional perspective.
And how do you imagine your life in ten years – professionally and privately?

Hofer: If I've learned anything in the last 30 years, it's that in the end things always turn out differently than you think. I think when I was 13 I thought that by the time I was 30 I would definitely be leading a very "serious" life. I don't think that's quite the case yet. Maybe then at 40?
You are firmly in the cast of the Eberhofer thrillers and the Munich "Tatort". What are you looking forward to most about each shoot?

Hofer: On the people! So both in front of and behind the camera. Especially with the Eberhofer thrillers, a large part of the team has remained the same – and has been for ten years. It feels like meeting up with friends every year to shoot another movie. It's actually rare in film in this form.
And what ritual do you have on set?

Hofer: When shooting Eberhofer, the security guard uniform has to be "armed up" every time. Photos from previous years are then used to help put the pens back into the uniform in exactly the same order.
How satisfied are you with the development of the two roles?

Hofer: In principle, very much. At the Eberhofer, I'm happy that my role is allowed to show new facets every time, such as on the pole dance pole in "Guglhupfgeschwader". And with "Tatort" I really enjoy being involved in the development of the character "Kalli".
When you started at "Tatort", you studied business administration at the TU alongside acting. What has become of it?

Hofer: I finished my studies a few years ago. The certificate is in the closet at home.
You wanted to get into film production after studying business administration. Is it still relevant?

Hofer: Basically, acting is my passion. For me as an actor, telling stories is central. But because I also like to tell my own stories, I can very well imagine producing my own films at some point. But above all, you need time for this. I don't have that at the moment.
In which general direction should you continue professionally?

Hofer: I've been a full-time actor for a couple of years now – still sounds fun – and I hope to stay that way. Luckily it doesn't get boring and I'm looking forward to many new roles that I can design.
How do you keep fit – still with the hobby soccer team?

Hofer: Unfortunately, they no longer exist. In winter I play in an ice hockey team, but also at a hobby level, and apart from that I like to go bouldering. In the summer I also ride my racing bike a lot.
Source: Stern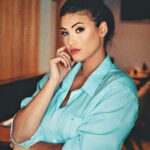 I am an author and journalist who has worked in the entertainment industry for over a decade. I currently work as a news editor at a major news website, and my focus is on covering the latest trends in entertainment. I also write occasional pieces for other outlets, and have authored two books about the entertainment industry.