Teresa Parody, Liliana Herrero and Juan Faluleading artists of Argentine folklore, present in El Tasso the cycle "Landmarks: Signs and memories of the homeland".
"Cairns" is a musical and poetic work that reveals and exposes signs of the vital and dramatic memory of our country. The original texts of "Mojones" were created between November 2020 and February 2021, within the framework of conversations between Liliana, Teresa, Horacio and Juan, focused on the original idea and the unavoidable experiences of those who share time and gestures. of an Argentine generation marked by passions and duels.
The original idea is from Liliana Herrero and the texts are Horace Gonzalez. The music and lyrics are from Juan Falu and Teresa Parody although there are texts such as "Martin" by Edgardo Cardozo, "Remanso azul" by Juan Falú and Pepe Núñez and "La Bengala" by Gustavo Caso Rosendi.
The project, which had its live premiere in August 2021 at the Kirchner Cultural Center with a limited capacity due to the pandemic, is now taking shape as a book-disc and will be assumed by its three mentors on Saturdays in May, from 8:00 p.m. in the room located in Defense 1575.
Although the material and its live performance included more artists (Pedro Rossi on guitar, Facundo Guevara on percussion, Ariel Naón on double bass and Lilián Saba on piano) at the Tasso will have a limited cast.
"For the first time we are going to do the repertoire of 'Mojones…' only with Teresa and Juan, but I feel that once again we are facing more than a trio, but rather a quartet where one is not there, without a doubt," Herrero assured in dialogue with the agency Telam.
"Mojones-Signos y Memorias de la Patria" brings together the works "The name without end" (about the loves of the people), "The song first", "Bando", "In that solitude", "Martín", "La Plaza ", "Pañuelito sin adiós", "Remanso azul", "La bengala", "The dreams that we did not lose" and "Vidala del que no está".
The cycle "Mojones: Signs and memories of the homeland" with Teresa Parodi, Liliana Herrero and Juan Falú is presented every Saturday in May at the Tasso. Tickets are on sale through passline.
Source: Ambito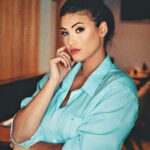 I am an author and journalist who has worked in the entertainment industry for over a decade. I currently work as a news editor at a major news website, and my focus is on covering the latest trends in entertainment. I also write occasional pieces for other outlets, and have authored two books about the entertainment industry.