(By Sergio Arboleya) The pianist, composer and trainer Hilda Herrera, who will be honored within the framework of the Popular Music Encounter that will begin its 20th Monday. edition of her, assures that this type of tribute "excites her a lot" because for her "the most important thing is the recognition of her work".
"While many people think about fame or success, for me the important thing is to have worked my whole life for our music and on that path I have been trying to infect the new generations a little," Herrera said during an interview with Télam.
Born on October 20, 1932 in the Cordovan city of Capilla del Monte, Herrera is an inspired and exquisite author and performer who, around 2002, founded Creators and Performers of Argentine Piano Music (Cimap), a factory for young pianists dedicated to the country music.
In this work between dissemination, creation and education, in the '90s he shared with the guitarist Juan Falú the free cycle "Maestros del Alma" at the San Martín Cultural Center, which allowed great figures of popular culture to be recognized while alive like Gustavo "Cuchi" Leguizamón, Horacio Salgán and Rolando "Chivo" Valladares, among others.
As a soloist, he also published the albums "Señales luminosas" (1997), "Yupanqui en piano" (2000), "La diablera" (2005) and "Gardel" (2010), and among his works, those created with Antonio Nella Castro ("La diablera", "Zamba del chaguanco" and "Navidad 2000"), Margarita Durán ("Zamba del fiero" and "Amanece despacito") and Kiko Herrera ("La huesuda" and "De tinajas"), for cite only a few.
In the context of the Rosario Musical Encounter, both Herrera and Chacho Echenique, a musician, composer and interpreter who shared the influential and notable Salteño Duo with Patricio Jiménez, will also be distinguished as illustrious visitors by the Municipal Council of the city of Santa Fe.
The celebration of the work and the career of Herrera by Eduardo Spinassi, Matias Martino, Susana Ratcliff and Nicolás Muller, among others, will be on Saturday 20 from 8:30 p.m. at the closing of the activity at the Teatro del Parque España (Sarmiento and the river).
The closing evening will also include the Dance Workshop Show by Oscar Farías, the duo of the pianist Sebastián Gangi and the violinist Pablo Farhat and the group Cuerdos Vocales.
Before, the artistic grid of the Meeting that will offer its traditional training workshops, will open on Tuesday 16 in Sala Lavardén (Mendoza 1085) with the duo Wagner-Taján, Garupá, Del Agrio Dúo (Nico and Fede Pérez) and Bruno Arias.
On the 17th, also at La Lavardén, it will be the turn of the guitar ensemble shows by Marcelo Stenta and the vocal ensemble by Manu Navarro, as well as Sergio Zabala, Ángela Irene, Aromo and Chacho Echenique.
On Thursday the 18th at the Empleados de Comercio Theater (Corrientes 450) Mario Bernachea, Tridente (Mario Diaz- Martín Mansilla- Roberto Calvo), Hilda Alvarado and Marián Farías Gómez will perform; and on Friday at the Parque España Theater, Lilián Saba and the concert "Argentine Music for Strings" will perform, bringing together the Rosario Municipal Chamber Orchestra with Martín Neri, Myriam Cubelos, Julián Venegas, Aldana Moriconi, Juancho Perone and Marcelo Stenta on bass Directed by Lucas Querini.
Télam: Can it be thought that by prioritizing your work as a trainer you neglected your artistic career as an author and pianist?
Hilda Herrera: Totally. Besides, I was always very useless to sell myself, although I never gave it much importance because I lived from teaching instead of from this very difficult and sometimes very cruel environment of the music business. But I wouldn't have done it any other way because I'm like that, I was born like that and that's been my way of approaching this beautiful profession and that's why I love music so much and I keep learning and I'm going to die learning.
T: A peculiarity of your path is to play various styles of folkloric and tango indistinctly. Did that hurt you too?
HH: There is something very painful, that they told me "but how is this girl going to play a chacarera if she is from Córdoba", as if you could not feel and touch the chacarera unless you are from Santiago, Tucuman or Salta. And the same with tango, which is our music that I enjoy playing and composing because those regional divisions don't suit me and, for me, Argentine music is one very large and very varied music.
T: All a reaffirmation of identity that is not tied to borders and styles…
HH: The important thing is not to lose the identity of our music and that has been my fight. That is why being recognized now in Rosario is very important because I experience it as a recognition of the work more than the creativity that God gave me, because if one has some talent it is because they gave it to you and the point is to work on it and that is what that I have done all my life.
T: In that walk of yours, did you always handle yourself very freely?
HH: I didn't have any kind of conditioning to compose, I always composed what I felt I had to do and above all I had the great fortune to work with some spectacular poets because otherwise I wouldn't have made the music I did. Working with Nella Castro and Durán allowed me to connect with great poets, with people who spoke the truth in what they wrote without mincing words and that has touched me a lot, perhaps because I am a great reader.
On the other hand, many times they tell me "you're always playing other people's music when you should play your songs more", and it's true, but that happens to me because I've admired so many people so much. For example, for me Horacio Salgan is untouchable, the same as Athaualpa Yupanqui, the same as Carlos Gardel, the same as Eduardo Falú, the same as "Cuchi" Leguizamón or that great forgotten that is Polo Giménez.
Source: Ambito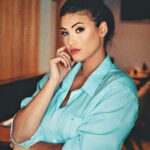 I am an author and journalist who has worked in the entertainment industry for over a decade. I currently work as a news editor at a major news website, and my focus is on covering the latest trends in entertainment. I also write occasional pieces for other outlets, and have authored two books about the entertainment industry.