"Beverly Hills, 90210" star Tori Spelling celebrates her 50th birthday on May 16, 2023 – and is still living on the 90s cult series.
She went down in TV history as "Donna Martin": Tori Spelling (50) was one of the main actors in the series "Beverly Hills, 90210" from 1990 to 2000. Along with Jason Priestley (53), Ian Ziering (59), Shannen Doherty (52), Jennie Garth (51), Brian Austin Green (49), Gabrielle Carteris (62) and Luke Perry (1966-2019), she became a cult star a whole generation of teenagers. But after that there were no great successes. On April 16, 2023 she will be celebrating her 50th birthday – and the next private scandal is probably not far away.
She grew up as a rich daughter

Because the dreamed Hollywood career didn't work out. Instead, Tori Spelling markets her personal life wherever she can. While some of her colleagues at the time were able to get other roles in series and films, she tinkered through reality shows and talked about various problems. She was actually born with success in show business: her father Aaron Spelling (1923-2006) is one of the most successful producers in the USA. He was responsible for more than 200 series and films. For example, he produced "Starsky & Hutch", "Charlie's Angels", "Hard But Hearty" and "The Denver Clan". He also launched "Beverly Hills, 90210" with Darren Star (61).
The role was written especially for her

Tori Spelling really wanted to be part of the series about a cool high society clique. She had dreamed of acting since she was a child and kept taking on minor roles in her father's series. She initially auditioned for the lead role, Kelly Taylor, which went to Jennie Garth. Instead, Aaron Spelling had her write "Donna Martin" into the screenplay, which was initially intended as a minor supporting role. But Tori Spelling was getting more and more screen time over time. After all, she was one of the four actors who starred in most episodes of the ten seasons. She never really got away from the cult series: from 2008 she played her old role in guest appearances in the offshoot "90210". Ten years later she developed a new edition together with Jennie Garth. "BH90210" aired on Fox in August 2019, and featured much of the original cast.
"I was either the daughter of Aaron Spelling or Donna Martin"

Tori Spelling still draws on the worldwide success of the 90s series. However, she no longer leads the glamorous life she was used to as a child of the successful producer. After "Beverly Hills, 90210" there were no role offers. And of her father's $600 million fortune, she reportedly received just $800,000 after falling out with her mother, Candy, 77. In a 2019 interview with People magazine, Tori Spelling spoke about the burden of her past: "I was either Aaron Spelling's daughter or Donna Martin. I was never anyone else." She always felt misunderstood. There has also been much speculation about her appearance. "I only did my nose and breasts, that's it. But I keep reading that I would have done more." Beauty surgeries have been whispered about since she was 17. "I remember my dad saying, 'Don't worry. It'll be over next week.' But I couldn't get rid of that thing in my entire career."​
She had five children with her second husband

Tori Spelling made headlines after the end of the series, especially with private hustle and bustle. Her marriage to actor Charlie Shanian (born 1965) failed after just one year with a bang: she fell in love with her film partner Dean McDermott (56), who was also married, on the set of "Mind Over Murder" in 2005. The two tied the knot just two weeks after their divorce in May 2006 and had five children: Liam, 16, Stella, 14, Hattie, 11, Finn, 10, and Beau, 6. The couple turned their private life into a business model and likes to reveal indiscreet things. Tori Spelling has published two books about her difficult relationship with her mother and her own life as a mom. She trundled through all sorts of shows and bemoaned her financial problems. The blessing of children is also due to the fact that the couple cannot afford sterilization. For years, the two have been in the public eye with marital crises. In 2014, they did therapy in front of the cameras on their reality show "True Spelling". They separated in June 2022, and Tori Spelling is now posting family photos again.
"Entertainment Tonight" recently reported that the couple is working through their issues. "The marriage counseling has been a big part of them trying to get things back on track and so far it's been going pretty well," says an insider quoted. Everyone is doing their best to keep the marriage going. There is no money for a divorce anyway.
Jennie Garth is her "soul sister"

And so Tori Spelling seems to reach for any job that makes a little money. Last year she moderated the dating format "Love at First Lie". On her Instagram page, she likes to remember the "Beverly Hills, 90210" time, which probably gets her the most clicks. Together with Jennie Garth she founded the lifestyle brand "The BFF Collection", which is sold on home shopping TV. Because she can't get rid of her private life either: the woman who got her dream role is one of her closest friends and is her "soul sister". Next from her former colleague: "My voice when I'm scared, my spine when I'm not tough enough, my truth when I can't see it." She has known and loved Garth for 33 years, so "we can communicate without words".
And until the two best friends possibly pull off their next "Beverly Hills" reunion, Tori Spelling continues to market her personal life. In early April, she came forward with an eye-patch after not taking out her contact lists for weeks. In January, she shared that her daughter, Stella, suffers from hemiplegic migraines. With five children, there are certainly a few more stories to tell.
Source: Stern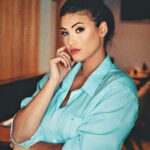 I am an author and journalist who has worked in the entertainment industry for over a decade. I currently work as a news editor at a major news website, and my focus is on covering the latest trends in entertainment. I also write occasional pieces for other outlets, and have authored two books about the entertainment industry.