Influencer Stefano Zarrella brought his whole family to his appearance on the "ZDF TV Garden". The viewers didn't like that at all. There was a lot of criticism on social media.
He actually wanted to present his culinary arts during his performance, but then everything turned out differently: Stefano Zarrella triggered a wave of criticism with his family surprise appearance in the "ZDF TV Garden" on Sunday. "Zarrella Garten, how bad can it get?" One user commented on the Zarrellas' appearance on Instagram, for example, another said: "Slowly it's getting annoying". But what happened?
The Zarrella family is now a regular on the show. It was only in the opening episode on May 7th that pop star Giovanni Zarrella was seen performing in the studio on Lerchenberg in Mainz, followed a week later by brother Stefano.
Surprise performance by Bruno Zarrella

The 32-year-old was supposed to stand in for TV chef Armin Roßmeier last Sunday, who normally cooks for the viewers of the show. As a substitute chef, the food influencer not only had recipes for a fine pasta salad with lemon ice cream for dessert, but also a large part of his family.
Prime time on ZDF
Deep feelings, big voices – and a marriage proposal: "The Giovanni Zarrella Show" is back with a bang
Papa Bruno, Uncle Egidio and Mama Clementina were in the audience, the latter threw a "Viva la mamma!" to Zarrella on Mother's Day before his performance. to. Then the drama took its course: while Zarrella was cooking, Papa Bruno suddenly jumped onto the stage out of nowhere and serenaded his Clementina in Italian for Mother's Day. He also had a bouquet of flowers with him, which he presented to his loved one at the end.
"I'm not in the mood for #TV Garden anymore"

And while Clementina was very happy, the shitstorm on Instagram, Twitter and Co. took its course. A Twitter user commented on the scene with the words: "Papa Zarrella serenades his wife for #Mother's Day. Not in the mood anymore #TV Garden." Other users wrote: "How can I ever get this picture out of my head?" and "Now, uh, Papa Zarrella is also singing, eh, playbacked. That must be this clan crime that everyone is talking about."
Presenter Andrea Kiewel put one on top. She is said to have had a little flirtation with Uncle Egidio a week earlier at a Giovanni concert. In view of this, the 57-year-old joked: "Here is your hostess Andrea Zarrella". For fans of the show, the performance is a "low point". Users commented on the behavior of the Zarrella family as "embarrassing", it was bad that the GEZ fees would be hit on the head.
Fans of the TV garden can now breathe a sigh of relief. For next Sunday motto celebrities like Oli P. Captain Jack and Guildo Horn are on the guest list and perform under the motto "80s meets 90s". By July 22nd at the latest you will see at least one Zarrella again on ZDF. Every Saturday it's time again at prime time: "Start filming!" for the "Giovanni Zarrella Show".
Source: Stern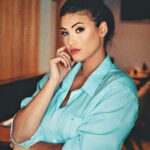 I am an author and journalist who has worked in the entertainment industry for over a decade. I currently work as a news editor at a major news website, and my focus is on covering the latest trends in entertainment. I also write occasional pieces for other outlets, and have authored two books about the entertainment industry.