With her latest Instagram post, Cathy Hummels hits a sore point again. The influencer poses topless with a pink mane, triggering a shitstorm.
That was certainly not her intention: with her new Instagram post, Cathy Hummels just wanted to point out a new campaign that is in the starting blocks. What followed was a wave of insults and bad news.
On the post you can see Hummels with a deceptively real pink mane, which she stages in front of a white wall and with a naked upper body. Her long head of hair covers only the essentials. The ex of professional soccer player Mats Hummels writes: "New House & New Hair – Pink is my color 💖 #NewCampaign #StayTuned". Because there has been a lot of change in the life of the 35-year-old in recent months, it was only in April that she moved to a new house in Munich with her son Ludwig.
"Doesn't really suit you, getting naked doesn't help either"

So now a new campaign is to follow. As she suggests in her story, it is a collaboration with the nail polish brand "Alessandro International", for which she slips into different looks with different hair colors. The new hairstyle by Hummels is therefore only a wig and not a radical change in type.
The post still annoys users on the Internet. They get angry about Hummel's naked torso. "It's always worse, again such a desperate cry for attention, just embarrassing," writes a user. Another adds: "It doesn't really suit you, it doesn't help to get naked either."
Cathy Hummels defends herself against body shaming

It is not the first time that the influencer has revealed herself freely on her social media account. She recently posted a photo from vacation with her topless body, only covering the intimate areas with two cocktails. And yet her freedom of movement repeatedly causes outrage on the Internet.
Under her new post, her users accuse her of sexism, a user asks: "Why do you reduce yourself to your body as a woman?". Another said: "Sometimes I just want to put a shirt on you. I don't know what you get from having your picture taken half-naked. How desperate do you have to be to get validation like that?"
In the meantime, Hummels has deactivated the comment function under her post, but does not simply let the statements sit on her. In her story, the influencer shared screenshots of some comments and wrote: "Criticism is one thing, but body shaming doesn't work at all. Everyone can show themselves as they want." Because angry statements against the body of the 35-year-old seem to be a sore point for Hummels.
Counter with an important message

Recently she had received a lot of criticism in the course of her acceptance. In October last year, she then shared a photo for the first time with the text: "Everyone looks different, but comments are taboo and just hurt. Especially if you don't know the background. Everyone has their story. Their reasons. Illnesses (mentally like physical) Comments like: 'You ugly skeleton. Have you ever looked in the mirror? It's getting less and less. Go to a psychiatrist.' go below the belt." According to Hummels, she lost more than 15 kilograms in the course of her depression, but the 35-year-old seems to be doing a little better physically now.
And that's why they hurt comments against their bodies so much. A negative statement in the course of the shit storm highlighted her in her story. When asked "Who would want to see their mother like that on the internet?" Hummels replies: "My son would answer: Dear mom, thank you for bringing me into the world with this body."
Source: Stern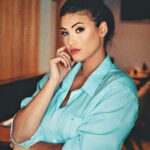 I am an author and journalist who has worked in the entertainment industry for over a decade. I currently work as a news editor at a major news website, and my focus is on covering the latest trends in entertainment. I also write occasional pieces for other outlets, and have authored two books about the entertainment industry.