With "Felicità" Al Bano landed a world hit with his now ex-wife Romina Power. On May 20th he celebrates his 80th birthday.
Italobarde Al Bano celebrated the big party for his 80th birthday on May 18th with a big concert in the Arena of Verona. During the live performance with the show "Al Bano 4 mal 20", the singer was also on stage with his ex-wife Romina Power (71) and other Italian musicians.
On the day of honor itself, May 20th, he takes it easy on his Apulian winery. In the midst of his family, with his five children and three grandchildren. Only happy faces around him are important to him, because this man has a very special relationship with happiness.
The greatest success of his life

Luck was an integral part of his career and, if you will, the greatest achievement of his life. With "Felicità" (Italian luck) Al Bano, whose real name is Albano Carrisi, landed a world hit that made him famous as a singer.
"Felicità" – that was quite a while ago, but somehow the Italian catchy tune has eaten its way into long-term memory. He will probably be heard more often on the radio these days.
The song isn't that old. It premiered in early 1982: a declaration of love for the carefree romantic life of holding hands and strolling along the beach. All of Europe fell in love with this simple song. However, Al Bano was only one half of the fortune, Romina Power was the other.
He and his young wife performed with it for the first time at the Sanremo Festival. "Felicità, è tenersi per mano, andare lontano, la felicità…", smashed Al Bano with his pretty, light voice, a "small, inconspicuous Italian with health insurance glasses" and "questionable matt hairstyle", as the "Spiegel" wrote: " An elfin beauty in a strapless red glitter dress dances next to him and breathes back: Felicità."
A seemingly unlikely couple

She: American, a daughter of Hollywood star Tyrone Power, who died of a heart attack while filming in 1958 at the age of 44. He: Son of a wine grower in Apulia. A seemingly dissimilar couple, which is exactly why it seemed so authentic to the audience. "What else could have brought these two together besides amore?" asked the "mirror."
The couple fell in love with each other back in the 1960s. Romina Power lived in Spain and Italy with her mother, the actress Linda Christian (1923-2011), and acted in Italian films from the age of 14, but also appeared as a singer. She was only 15 when she met Albano Carrisi, eight years her senior, while filming. He was already a hit star.
As a 17-year-old, musically gifted school dropout, the young Carrisi went to Milan and worked as a laborer and waiter, including in a restaurant frequented by show stars. There he met Adriano Celentano (85), who took care of the boy from Puglia. He recorded his first records, had appearances in the opening act for Celentano, and was a guest on television music shows.
The golden couple of Italian pop music

In 1967 he had his first big summer hit with "Nel Sole". The song also becomes the theme song for the film of the same name, and he stars in it. His partner: Romina Power. The two fall in love, she becomes pregnant.
The couple married in 1970, against their parents' wishes. Daughter Ylenia was born in the same year, followed by three more children: Yari (1973), Cristel (1985) and Romina Jr. (1987). There's Al Bano, as he now calls himself, and Romina, "La coppia d'oro", the golden couple of Italian pop music. They represented the country in the Eurovision Song Contest in 1976 and 1985. They are several times the stars of the Sanremo Festival, which they win in 1984 with "Ci sarà". Her hits "Sharazan", "Semper semper", "Libertà" and above all "Felicità" are million sellers.
The marriage breaks up due to a tragic fate

A tragic event, however, brought about the big break: the eldest daughter Ylenia, then 23, disappeared on New Year's Eve 1993. She was on a trip to the USA and stayed in New Orleans with her boyfriend, the street musician Alexander Masakela, in the French Quarter . On December 31, she leaves her hotel alone – and is never seen again after that. The young woman has been officially missing since January 6, 1994.
This breaks up the parents' marriage. Romina believes her daughter has been kidnapped but is still alive. She seeks out Ylenia through TV shows and even employs fortune tellers. The desperate search for clues – sometimes Ylenia is allegedly sighted in the Dominican Republic, sometimes she is said to have been seen in a monastery in Arizona – yields nothing concrete.
"Our Marriage Was Hell"

Al Bano and Romina separated in 1998, a year later they divorced, Ylenia disappeared. Her father suspects that she committed suicide in Mississippi while intoxicated with marijuana. He even goes so far as to claim that his daughter only became addicted to drugs because of her mother. Romina used to smoke joints regularly – and thus brought her daughter into contact with drugs.
Romina Power leathers back on a talk show on Spanish television: "Ylenia rejected her father, the two fought constantly … She told me: 'You have to go away, I will do it one day.' "Al Bano is " a dictator! When he got upset he would scream. He even kicked me once. He was pathologically jealous and acted like a bully. Our marriage was hell."
On the other hand, Al Bano insists that he treated Romina – "she was the woman of my life" – "like a Madonna". He is convinced that "drugs destroyed our marriage." The once harmonious relationship seems to be irretrievably poisoned, daughter Ylenia is declared dead ten years after her disappearance.
Al Bano becomes a winemaker and father again

While Romina Power largely withdraws into private life, becomes a Buddhist, writes a novel and finally releases the solo album "Da Ionato" in 2012, Al Bano is once again successfully on the road as a solo artist. And he becomes a winemaker after inheriting his father's winery. The Azienda Vinicola Tenute Al Bano Carrisi in Cellino San Marco (Brindisi province) is a stately establishment with a restaurant, Hotel Felicità, pools and spa in a dreamy landscape of olive groves. The best-known product is the red wine Don Carmelo, named after his father who died in 2005.
He is also in a relationship again. Al Bano has two more children with the 29-year-old TV presenter and entertainer Loredana Lecciso (50). The relationship is also turbulent at times. And he's back in touch with Romina. The two perform as a singing duo in Moscow in 2014, even release a new album in 2020 and sing at the Sanremo Festival. Romina is also on stage with her ex-husband on his 80th birthday. On July 1, the two will also appear at Florian Silbereisen's (41) "Schlagerbooom Open Air" in Kitzbühel.
Source: Stern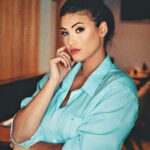 I am an author and journalist who has worked in the entertainment industry for over a decade. I currently work as a news editor at a major news website, and my focus is on covering the latest trends in entertainment. I also write occasional pieces for other outlets, and have authored two books about the entertainment industry.