Ponos made Riley Reid rich and famous. In an interview she explains how hard life is for a porn star. She has to deal with being shamed and exposed every day. She also lost her family. Some just wanted to take advantage of them, others were ashamed of them.
Riley Reid did porn for 12 years. She was an industry superstar, winning 46 awards and, at the peak of her career, was said to be making around half a million dollars a month from her Only Fans account alone. Then came the break. Reid is getting married, having a baby and retiring to her $4.8 million mansion for at least a little while.
A video has now appeared on Twitter in which Reid settles accounts with her career. The clip already has 2.5 million views, although it's just a snippet of a longer interview from 2020. The price for her income and dubious fame is high, according to Reid. She describes how stigmatized she is. "I lost my whole family."
Women often ask her if they should go into the porn industry, and she always says no.
"I say to everyone: This makes your life really complicated. It makes dating very difficult. It makes family life very difficult. Intimacy becomes difficult." Reid never complains about her work, her videos and her shows. So it's society's rejection that a porn star has to deal with.
The world condemns

"If you expose yourself like I did, the world will judge you. You have to deal with being shamed and exposed every day."
She is particularly concerned about her family's reaction. Reid grew up with her mother. In the beginning, her mother even supported her. "She always let me do whatever I wanted. I had a lot of freedom." But then she noticed her mother's selfish motives. "My mother used me to live a life of luxury." When she set her limits, the relationship collapsed.
"I stopped giving her money, expensive things. It poisoned our relationship. It hurts. I don't have a mother now. I don't speak to her anymore. I miss having a mother so much."
"What should I cry about, you can't go back. I don't have a relationship with her anymore."
Father is ashamed

Her relationship with her father is also broken, albeit for different reasons. He always struggled with her porn career because he was very religious. Recently she wanted to visit him, says Reid. "My father said I couldn't come. His wife, my stepmother, doesn't want me in her house."
She continues: "But when I asked, 'Can we get some coffee and have breakfast together?' He just said, 'I don't want to be seen with you in public.'" That moment hurt "so much".
Reid also doesn't speak to her siblings. Some would just want to take advantage of them. "The others are like my father and avoid me."
Even her baby gets offended

In the interview, she once said she was afraid to have children because she did porn. "Because I'm afraid of how my children will be treated badly."
The 31-year-old is now married and has a child with her husband. Their fears were not unjustified. She recently lamented on TikTok: "It drives me crazy how many people make ugly and hurtful comments about my baby. She's a baby. Grow up! Don't be mean to my baby."
But Reid didn't completely break with the "industry" anymore, she markets her clips on her own site, the account on Only Fans still exists.
Also read:
Porn Superstar Bree Olson – There is no life after porn
Amateur porn – the girl's dream of becoming an erotic star
The Zuckerbergs of Porn – the family behind OnlyFans
This is how the "OnlyFans" app makes ex-models rich
Source: Stern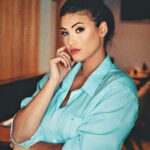 I am an author and journalist who has worked in the entertainment industry for over a decade. I currently work as a news editor at a major news website, and my focus is on covering the latest trends in entertainment. I also write occasional pieces for other outlets, and have authored two books about the entertainment industry.